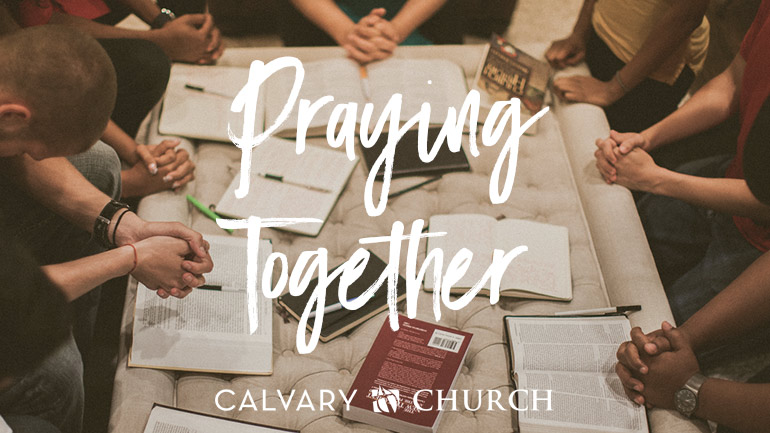 Calvary Church endeavors to be a people who connect with God and each other through prayer. Our Prayer Ministry purposes to involve all people in personal and group prayer for the needs at Calvary.
We believe that personal intimacy with God our Savior in prayer is the privilege and responsibility of every believer. We must live our lives through prayer and trusting God.


Praises & Prayer Requests
Submit your praise or prayer request through our secure, online system at my.calvarylife.org


Send an email to to let us know of your praises and prayer requests. Please include in your email if you would like this to be sent to the prayer team or if you would like it to just be for the staff at Calvary.


You can use "The Card" (located in the seat racks in the Worship Center) to write your prayer requests. Turn yours in during the Sunday morning services or to the Church office during the week so that we can join with you in lifting your prayer needs before the Lord.


You may also call the church at 714-973-4800 and dial 0 for the operator with your prayer request(s).


"Praying For Our Calvary Family" is a publication designed to encourage our staff and elders to pray for specific needs. If you would like to receive this list of prayer requests, please email us at
Opportunities to Pray Together
National Day of Prayer | 1st Sunday in May
Samsvick Chapel will be open the first Thursday in May from 7:00 am—6:00 pm as a simple, sacred space dedicated for prayer with interactive prayer stations and an available prayer guide.
Gather together with others to pray for our nation at 7:00 pm in the Worship Center Lobby. This event is hosted by Calvary's Faith and Public Policy Ministry. Learn More
Worship Center Prayer Room
Come Sunday morning to pray before each service for God's presence and leading in our services and ministries. All are welcome!
Prayer Counselors - Sunday Worship Services
There are opportunities each Sunday at the end of both Celebration 8:45 am and Elevation 10:45 am, to meet with Prayer Counselors. If you would like to serve as a Prayer Counselor, contact Ron Rogalski at
Prayer Counseling Appointments
If you would like someone to pray with you for healing from past wounds or to overcome obstacles or patterns that are keeping you from growing in your faith, set up an appointment to pray with someone at
Wednesday Prayer Meeting
Every Wednesday at 7:00 pm in the Library. All are welcome to come pray.
LifeGroups
LifeGroups are ongoing, small group communities, guided by trained leaders, in which we can more intimately connect with God and others through prayer and fellowship, grow in our faith through God's Word, and reach others through service and outreach opportunities. Find out more about LifeGroups
Calvary Home Prayer Life
We encourage growth within your family at home through a daily time of prayer together. You may also start a new home prayer group! Remember to pray for your church family, pastors, elders, missionaries and specific church ministry and family needs. Also, pray for the leaders of our country, local, state and federal officials.
"May Your unfailing love rest upon us, O Lord,
even as we put our hope in You." Psalm 33:22