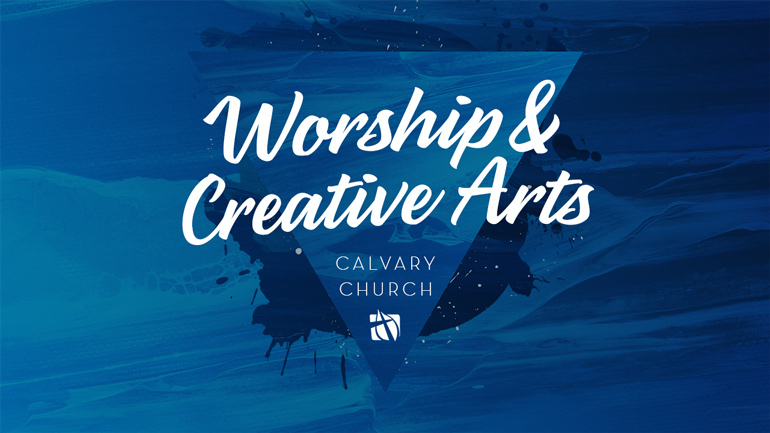 God is infinitely creative and has revealed His glory in the physical world. The pinnacle of his creative work is mankind made in His image (Genesis 1:27) and so we reflect His design and attributes in our creativity as people. We honor Him in our expressions throughout the whole range of creative arts, and have the opportunity to touch and affect the hearts of people to His glory.
Get connected with a ministry that fits your availability and abilities! You can find contact info to take a next step below or browse and apply for all of the available opportunities to serve at Calvary at the Volunteer Link Website.


---

· Music · Tech · Media · Drama · Dance ·


---
Drama
Drama Ministry is made up of talented people of high school age and above, who desire to develop their acting skills while supporting the worship services and special events of Calvary Church.
Spring Musical: Cheaper by the Dozen
Join us for a fully-staged Calvary Church Musical Production, Cheaper by the Dozen, from the book by Frank Gilbreth and Ernestine Gilbreth Carey. Come experience this fun, light, and heart-warming musical for the whole family showing in the Worship Center on:
Friday, May 5 at 7:00 pm
Saturday, May 6 at 2:00 pm
Sunday, May 7 at 6:00 pm
Tickets are "2-for-1" and available for a requested donation of $5. They are also "Cheaper By The Dozen"…12 tickets for $25! They are available on Sunday mornings in the lobby and during the week in Calvary's Corner Bookstore. They will also be available at the door the day of the show.
For more info about the Drama Ministry, contact Linda Paszkiewicz at 714.550.2301 or
Music Ministry
Nothing touches the heart like music, so the sounds of worship are heard all around Calvary Church in all age groups! We love to express our praise and devotion to God, and there's room for every kind of voice and instrument (Psalm 96, Psalm 150) to contribute in the ministry.
"Let the word of Christ richly dwell within you, with all wisdom teaching and admonishing one another with psalms and hymns and spiritual songs, singing with thankfulness in your hearts to God." Colossians 3:16
CELEBRATION
Celebration service music uses praise songs and hymns done in a blended style that uses rhythm section, choir, vocalists, and other instruments. For information/opportunities in music for that 9am Sunday service, contact Pastor Ron at or 714.550-2361.
CELEBRATION CHOIR
The Celebration Choir is a dedicated worship adult choir seeking to develop a worship leading community with opportunities for people to share their heart and gifts of music. The choir helps to lead worship in the CELEBRATION service(9am) most Sundays. For more information and opportunities, contact the director, Helen Weed at or 714.550.2353. We seek people with a voice and a heart to sing and worship! Come join us in the choir room Thursday evenings from 7:00-9:00 pm.
ELEVATION
Elevation service music is done in a modern worship style, primarily using a guitar-driven band and a few singers. For information/opportunities in music for that 11am Sunday service, contact Pastor Ron at or 714.550-2361.
SINGERS
There are other opportunities for using vocal abilities that include singing in a vocal ensemble, doing solos, and worship leading. Events to serve at are not only Sunday morning services but include small groups, classes, off-campus retreats, children/youth groups, banquets, and Sunday Night at Calvary.
PLAYERS
We value all kinds of instruments in worship music and players can serve in all kinds of groups from praise bands to orchestra, handbell choir to instrumental soloist. There are opportunities to accommodate most skill levels.


Technical Arts
We strive for excellence through complete transparency by providing sound, lighting, and video elements that are effective, seemless and free from distractions.
We are a volunteer driven ministry that serves all the other Calvary Church ministries. Calvary's tech arts crew currently has over 25 volunteers who serve faithfully behind the scenes to keep everything running smoothly during weekly services and special events throughout the year.
Get Plugged In:
We are always looking for new volunteers to be a part of this dynamic and essential ministry. If you are experienced (or even just interested) with sound, lighting, or lyrics projection we could use you. Contact Technical Arts Coordinator Ryan Roehl at 714.550.2329 or to learn more.


Media Arts
Calvary's media arts includes:
Video Production
Audio Production
Graphic Design
Photography
Website Design
If you have abilities in these areas and would like to get involved or to find out more about this ministry contact Tammy Harris, Calvary's Media Arts Coordinator, at 714.550.2342 or


Dance
Dance Ministry is made up of talented people of high school age and above, who desire to develop their dancing skills while supporting the worship services and special events of Calvary Church.
To find out more about Calvary's Drama + Dance Ministries, contact Linda Paszkiewicz at 714.550.2301 or