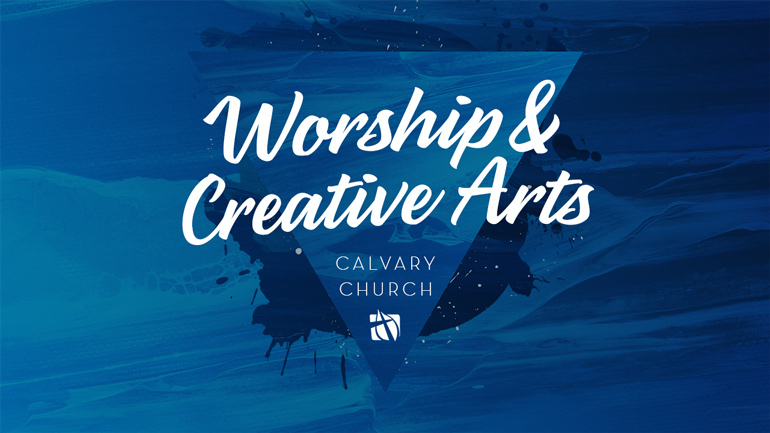 God is infinitely creative and has revealed His glory in the physical world. The pinnacle of his creative work is mankind made in His image (Genesis 1:27) and so we reflect His design and attributes in our creativity as people. We honor Him in our expressions throughout the whole range of creative arts, and have the opportunity to touch and affect the hearts of people to His glory.
Get connected with a ministry that fits your availability and abilities! You can find contact info to take a next step below or browse and apply for all of the available opportunities to serve at Calvary at the Volunteer Link Website.


---

· Music · Tech · Media · Drama + Dance


---
Music Ministry
Nothing touches the heart like music, so the sounds of worship are heard all around Calvary Church in all age groups! We love to express our praise and devotion to God, and there's room for every kind of voice and instrument (Psalm 96, Psalm 150) to contribute in the ministry.
"Let the word of Christ richly dwell within you, with all wisdom teaching and admonishing one another with psalms and hymns and spiritual songs, singing with thankfulness in your hearts to God." Colossians 3:16
For information/opportunities in music at Calvary, contact Pastor Ron at or 714.550-2361.
Technical Arts
We strive for excellence through complete transparency by providing sound, lighting, and video elements that are effective, seemless and free from distractions. We are a volunteer driven ministry that serves all the other Calvary Church ministries, during weekly services and special events throughout the year.
Get Plugged In:
We are always looking for new volunteers to be a part of this dynamic and essential ministry. If you are experienced (or even just interested) with sound, lighting, or lyrics projection we could use you. Contact Technical Arts Coordinator Ryan Roehl at 714.550.2329 or to learn more.


Media Arts
Calvary's media arts includes:
Video Production
Audio Production
Graphic Design
Photography
Website Design
If you have abilities in these areas and would like to get involved or to find out more about this ministry contact Tammy Harris, Calvary's Media Arts Coordinator, at 714.550.2342 or
Drama & Dance
We're always open to opportunities for talented people to develop and use their skills while supporting the worship services and special events of Calvary Church. If this is an area of passion for you or you want to find out more, contact Ron Rogalski at 714.550.2361 or
BROWSE OPPORTUNITIES TO SERVE HERE