Sunday, December 24
Worship Center · 10:00 am + 5:00 pm
Chapel · 10:00 am (en Español)
Chapel · 11:00 pm (Liturgical Service)
We want to warmly invite you to join us this Christmas Eve at Calvary as we end the season of ADVENT—of waiting and longing for the Messiah's arrival—by welcoming the coming of Jesus Christ into the world and bringing more of His hope, peace, joy and love into your life today.


WHAT TO EXPECT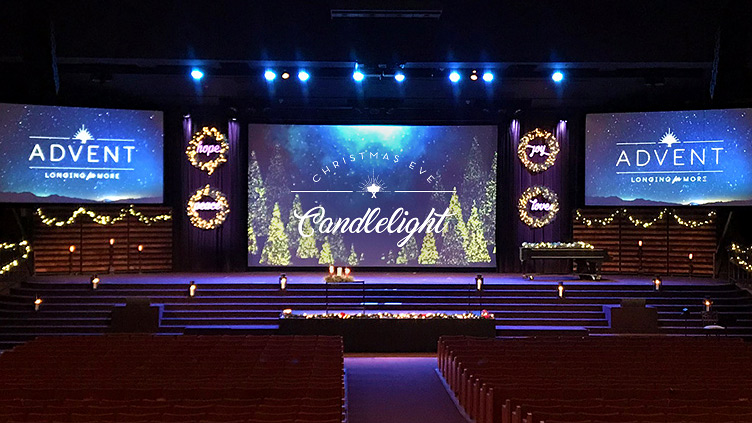 Are all the services on Christmas Eve the same?
Both Christmas Eve services in the Worship Center, at 10:00am and 5:00pm, will be the same Candlelight Service (in English with ASL available). While the Chapel will feature our Renovación Service at 10:00am (en Español) and a Midnight Liturgical Service at 11:00pm (in English).
What happens at Calvary's Christmas Eve Services?
The 1-hour services will include great Christmas music, lighting the Advent candles, and a talk from the Bible. Visitors are not asked to stand up or do anything embarrassing. In all that we do, our desire is to present the good news of Jesus, celebrating His coming into the world and the difference He can make in all of our lives.
What should I wear?
We hope you'll wear whatever makes you comfortable. You'll find plenty of people dressed casually (t-shirts, shorts, jeans) and others dressed a little snazzier (slacks, dresses, skirts). Just come as you are.
What should I do with my kids?
We have programs most Sunday mornings for Nursery up through High School. On Christmas Eve we invite all kids to join together with adults in our services. Families with very young children are welcome to enjoy Worship Center services together as a family with a live video overflow feed in the Nursery.
What kind of church is Calvary Church?
We're a non-denominational Bible-teaching church that has been part of the community since 1931.
Discover more about Calvary HERE.
Will I be expected to give anything?
Nope. We do give an opportunity during the service for our members to financially support the programs we run in our community and around the world, but guest are not expected to give.
Find out what giving to Calvary goes toward HERE.
How do I get to Calvary?
Calvary is located at 1010 N Tustin Ave, near the 5 and 55, in the heart of Orange County. Parking is accessible by turning off of Tustin Avenue onto either Wellington Avenue or Fruit Street.
See Map + Parking Details HERE.