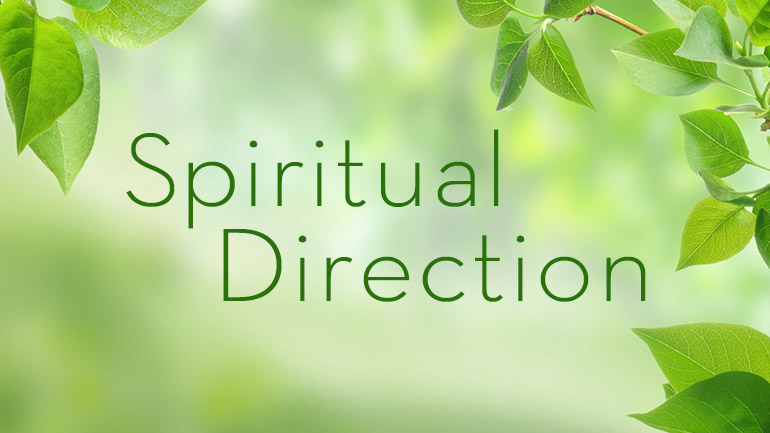 What is Spiritual Direction?
One Christian helping another Christian to:
· Pay attention to God's communication by His Spirit and through His word,
· Respond to God who communicates personally
· Grow in intimacy with God,
· Live life out of this relationship


What is a Spiritual Director?
· Not a counselor or therapist.
· A mature Christian helping another Christian to pay attention to how God is at work in his/her life.


Biblical Examples
· Eli helping Samuel to properly discern the voice of God (1 Samuel 3). A spiritual director follows this example by helping a directee (person receiving spiritual direction) to discern what God is communicating and continually pointing him/her to Jesus.
· Jesus' conversation with the Samaritan woman at the well (John 4). Jesus' questions open this woman's heart to the truth and help her grow in her relationship with Him. A spiritual director asks questions and provides reflection for the purpose of helping another person move more fully into relationship with and obedience to God.


Biblical Foundation
Spiritual direction is essentially a Christian ministry of prayer, care and discernment. It fulfills the call to love one another (John 13:34) by encouraging one another (1 Thessalonians 5:11) to love (Hebrews 10:24) with increasing wisdom and discernment (Philippians 1:9-11). It takes as a basic principle that those who have put their faith in Jesus have the mind of Christ (1 Corinthians 2:16) by the filling of the Holy Spirit (1 Corinthians 2:12-13), who is given to guide us into all truth (John 16:13). This Spirit-led renewing of the mind allows believers to test and approve God's will (Romans 12:2), measuring all things according to the Word of God (2 Timothy 3:16). Brothers and sisters in Christ are to carry one another's burdens in prayer (James 5:13-16, Galatians 6:2), be quick to listen to one another (James 1:19), and speak the truth in love (Ephesians 4:15).


Interested in learning more about spiritual direction?
The best way to learn more is to experience it. Two forms are available at Calvary Church:
· Individual Spiritual Direction—meet one-on-one with a trained Spiritual Director approximately once a month
· Group Spiritual Direction—a small group facilitated by a trained spiritual director, prayerfully listens to one another and seeks God's perspective on what a group member is experiencing. A spiritual director can attend your LifeGroup and lead it in group spiritual direction.
Contact Kristin Gackle if interested
or 714-550-2359
(Above adapated from BIOLA's Institute for Spiritual Formation brochure on spiritual direction.)