Our history tells an incredible story of how God can keep His truth alive in a changing world when there are willing people with a vision.
A favorite verse of our charter members was "Be strong and of good courage, and do it; do not fear nor be dismayed, for the Lord God, my God, will be with you. He will not leave you nor forsake you, until you have finished all the work for the service of the house of the Lord." (I Chronicles 28:20)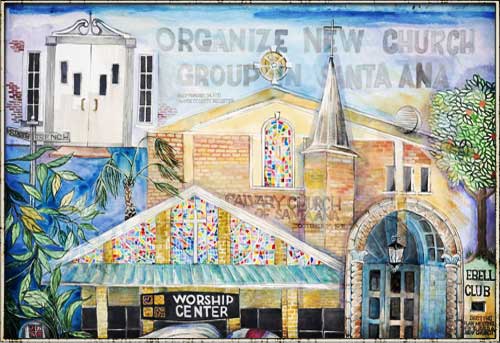 In 1930, in the midst of hard times, people were finding their faith in God increasingly meaningful as they proceeded to begin with plans to start a new church in Santa Ana. Through the years, with rapidly changing times, as He had promised in the beginning, God did not forsake them, but provided alternatives to the confusion around them based on His Word and its relevance to the problems of each era.
As we look back over years we see David's advice to Solomon taken seriously in 1931 is being fulfilled…to be strong and of good courage and to do it. At times tempted to fear, even to be dismayed, they found God faithful. He has not failed nor forsaken them. He has done it! They had not labored in vain and God has built His church.
As Calvary Church looks ahead to the ever changing needs of the still growing Orange County, and a troubled world, our heritage becomes our hope. "To whom much has been given much will be required," and God's faithfulness and grace to us in the past is our promise to claim for the future.


Our Roots
The years following the Depression were years of change for American Protestantism. There seemed to be a lack of sound Bible teaching in central Orange County at this time, and many people hungered for a church that would remain faithful to the Scriptures. Thus, a group of believers from various churches began to meet in different homes for a Bible study on Wednesday nights. The study grew and grew until finally on September 14, 1931, a group of 65 people met with Rev. Charles E. Fuller for counsel in organizing a new church in the Santa Ana area.
With Rev. Fuller's guidance and inspiration, this faithful group of believers in Santa Ana decided to found a church. They chose to use the name "Calvary" since Rev. Fuller's church, Calvary Church of Placentia, was well known for its good Bible teaching. Despite borrowing the name, Calvary Church of Santa Ana maintained its status as an independent church. They desired to be self-governed, self-supporting, and self-propagating. These statements proved to be true and are still accurate today.
The church services began meeting in the Ebell club, in downtown Santa Ana. Rev. Frank E. Lindgren preached the first sermon, and shortly after, he accepted the call as the first pastor of Calvary Church. It was formally organized on Oct. 25th, 1931 with 203 charter members.
In 1939, after 8 years of faithful service, Rev. Lindgren resigned, and Rev. Lyman Wendt became Calvary's second pastor. Under his leadership the church continued to grow, and the Ebell Club felt like it was shrinking. They soon found that they had need for larger facilities. In 1941 they purchased three downtown lots on the same block as the Ebell Club.


Branching Out
The growth of Calvary Church led to the building of a new auditorium in 1946, and the third pastor, Rev. Earl Morgan, joined Calvary in 1951 after Pastor Wendt resigned. When Pastor Morgan's health declined, he resigned, and Calvary welcomed Rev. Michael Samsvick as its fourth pastor in 1956. Under Samsvick's leadership, Calvary Church purchased part of the Tustin Avenue property in 1957 for $40,000. The administrative and educational buildings were built first, as well as the Fellowship Hall. The first service in Fellowship Hall was on April 29, 1962, with a dedication sermon by Dr. J. Vernon McGee. The sanctuary, now called Samsvick Chapel, was completed in 1967. In 1970, the congregation voted to purchase additional Tustin Avenue property, the south portion, for $350,000.
Under Samsvick's leadership, Calvary Church nearly quadrupled its membership, completed four major debt-free building projects, and started Calvary Christian School with six grades in 1975. The school grew in the following years as a preschool and middle school were added. Samsvick died from a major heart attack while working in his rose garden in April, 1982 after a fruitful 26-year ministry.
After an interim ministry by Dr. Lehman Strauss, Dr. David Hocking answered the call to become Calvary's fifth senior pastor in 1982. With overflow attendance as a regular feature of Sunday mornings, Calvary began to build the Worship Center in 1988 and it was dedicated to God on November 24, 1991.
Pastor Hocking resigned in the fall of 1992 and Dr. David Mitchell answered the call in 1995 to become Calvary's sixth senior pastor. He began his ministry with Calvary on November 19th of that year. Calvary has been grateful to have him as the Senior Pastor for 22 years. And now in 2018, we begin a new chapter of following Jesus with our new Senior Pastor, Eric Wakeling.


Fruitful Ministry Continues
Through the years, Calvary Church has touched many people's lives and changed them with the love of Jesus Christ. Calvary charter member Evelyn Grant said it for her fellow charter members, Bethel Blount, a retired Calvary missionary, and Paul Stuck, and many others in the congregation when she said, "Calvary Church has been a way of life for our family. I thank God for Calvary Church, the fellowship, teaching and staff that we have here."
Presently, Calvary Church has about 2500 members. Calvary Church has kept the teaching of God's Word at its core over the years, and its heart for missions since its first missionaries were sent to Venezuela in 1932.
May God continue to glorify Himself through His people at Calvary Church. And, may many more be reached with the life-giving, good news of Jesus Christ.