RESTORE
Renewing Broken Marriages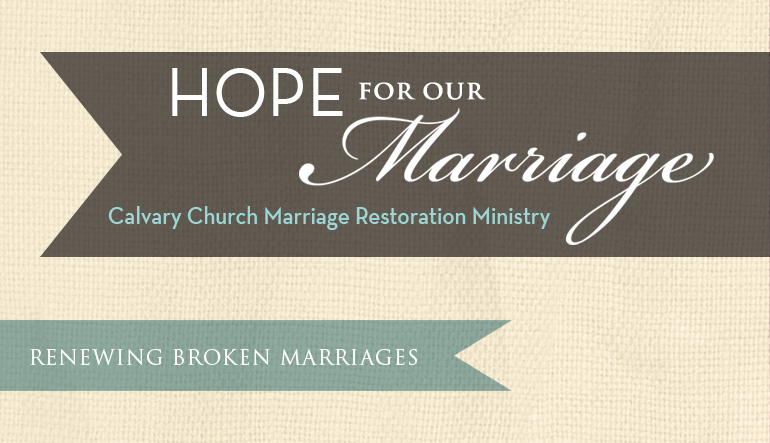 The staggering statistic facing first marriages today is that 50% will end in divorce. The rate among believers can be as high as 60% (none or minimal church attendance and commitment) to as low as 38% (attend church nearly every week). And the rate of divorce increases dramatically for 2nd and 3rd marriages to 70% or 80% and even higher.
Hope For Our Marriage is a ministry to husbands and wives who are struggling in their marriage relationship. Hope's primary emphasis in the restoration of marriages is through the process of restoring each spouse's relationship with the Lord. We have found through our years of experience that marriages often fracture when Christ is not at its center. Why? Because basically, we are all selfish and want what we want from our marriage and not what God has for our marriage.
Hope For Our Marriage requires an effort from both husband and wife. In the Hope curriculum, husband and wife meet with an Encourager couple for 12 – 14 weeks or longer if necessary. The meeting is much more than just listening to the teaching of marriage principles. It is interactive and requires a commitment and willingness to follow the direction of the Encourager couple as well as the lesson material.
The Encourager Couple is what makes Hope a unique ministry. For 12 – 14 weeks or longer, you will have a couple working with you that has experienced a failing and/or difficult marriage. Because of their obedience and submission to God, they have personally experienced the supernatural restoration of their marriage.
An Encourager couple has the following expectations of their Hope couple.
A willingness to submit to the Lord and asking Him what changes He wants to make in you (not your spouse)
Reviewing the weekly lesson and completing assignments before your next meeting
Committing to a weekly marital staff meeting with your spouse for the purpose of sharing what God is revealing to you about yourself and your marriage
Hope For Our Marriage is based on the Word of God. It is not just about tips and techniques or dos and don'ts. It is about committing to put into practice the truth and power of God's Word in the marriage relationship. Using scripture, Hope covers the following subjects.
Lesson 1 - THE WORK OF THE HOLY SPIRIT IN YOUR MARRIAGE
Lesson 2 - GOD'S DESIGN FOR MARRIAGE
Lesson 3 - BIBLICAL ROLES FOR HUSBAND AND WIFE
Lesson 4 - DECEPTION - SATAN'S LIES
Lesson 5 - TRUTH - GOD'S WORD
Lesson 6 - BAGGAGE FROM OUR FAMILY OF ORIGIN
Lesson 7 - CONFESSION AND FORGIVENESS
Lesson 8 - COMMUNICATION
Lesson 9 - RESOLVING CONFLICT
Lesson 10 - UNDERSTANDING OUR PERSONALITY DIFFERENCES
Lesson 11 - COMMITMENT AND WHERE YOU GO FROM HERE
Calvary Church's Pastor of Counseling meets with Hope couple candidates (husband and wife together) for about 1 ½ half hours. This time is used to gain insight into a couples' current relationship and to ensure they have a general understanding of the Hope commitment and process. Every Hope couple takes an assessment of their marriage, providing their Encourager couple with important information on the relationship.
If Hope For Our Marriage is of interest to you, please contact us at 714-550-2390, to set up an appointment.
Jeremiah 29:11 "For I know the plans I have for you," declares the Lord, "plans to prosper you and not to harm you, plans to give you hope and a future."