Exciting Easter Weekend Reflections and Looking Ahead Together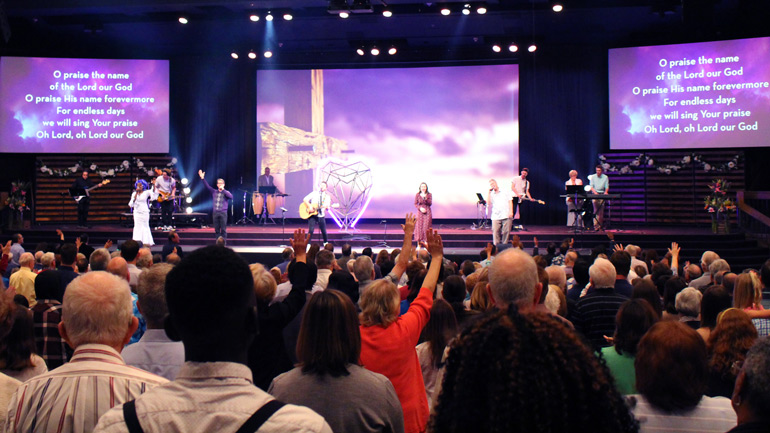 Dear Calvary Family,
Praise God for an incredible weekend of God working in us and through us at Calvary Church. From the Passover Seder to Good Friday Service (English and Spanish) to the Easter Egg Hunt to Sunrise Service (English and Spanish) and finally to the main Easter services in four different languages. Wow!
We saw many people come to know Jesus as their Lord and Savior and even more renew their faith and commit to living for Jesus as their King. Please pray with us for the people that filled out Response Cards and the many more that were impacted without filling out the card. We truly are better together so we want to come alongside everyone who wants to see Jesus change their lives. Consider volunteering to serve in our Discipleship Ministry and help walk with someone in their journey of faith. Learn More Here
This Sunday we continue our series on the Good News of Mark looking into the question of Who is Jesus? We highly encourage everyone to come back this Sunday as it's the week after Easter. This is a Sunday where we can really help people see the unity and joy in our church as they come back to see what a "regular Sunday" is like.
So let's all show up this Sunday with hearts to look for people we don't know and ask questions like "How long have you been coming to Calvary?" You don't have to ask "Are you new?" and worry about offending someone who has attending for a long time. Just ask "How long have you been here?" And then go from there. Ask how they first came to Calvary. Ask how they are connected or involved beyond the worship service. Then consider inviting someone to lunch after church with you.
I truly believe that the warmth we express and the joy we have in the Lord can make a huge impact on people's connection to the church and to Christ. Couple that with continuing to pray at 10:02am and inviting people to Calvary and we will see many lives transformed.
Finally, a huge thanks to everyone that served and volunteered to make all of the different events last week a great success. We deeply appreciate it.
See you Sunday!
May the Lord bless you and keep you,

Eric Wakeling
Senior Pastor




Calvary Weekly Email
Sign up to receive the weekly Calvary email of the Pastor's Blog to get biblical insights and ministry updates on life at Calvary as we follow Jesus together.