Something I Learned from My Father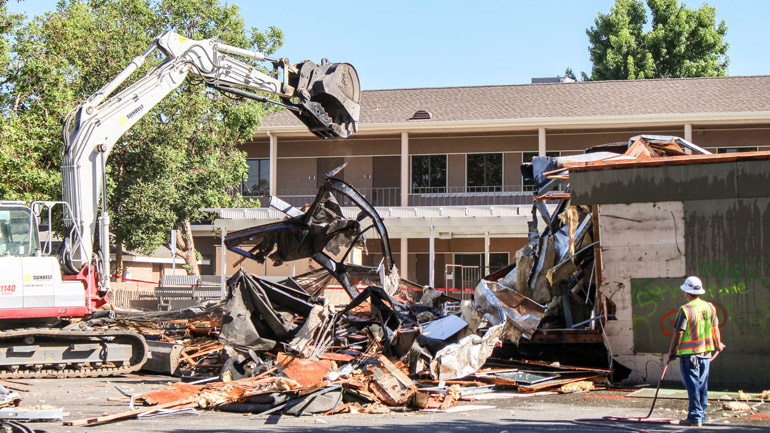 Dear Calvary Family,
Today I destroyed part of Calvary Church. I hope you can forgive me for tearing down a long standing part of our ministry. Working this amazingly powerful excavator, I demolished one wall of our "temporary" modular building from the 1980's. That "temporary" building has been here longer than most of us which reminds me how easy it is to keep things and even ministries that are long past their time. At some point, we need to let go and move forward as we are doing with the modular unit. Removing this building will allow us to create some green space and open up our picnic area for better friendships to grow.
Spiritually, we sometimes keep hanging on to attitudes and things that need to be removed and destroyed. They only block the work that God wants to complete in our lives. But change can be hard. I remember a time at my first church out of seminary when the leaders decided to remove the pews in favor of portable chairs. For some people, that seemed sacrilegious and they left the church.
With this being Father's Day this weekend, I remember my own father who is with the Lord. He told me about his younger years in college and seminary when he had bright red hair. He did not like that color and had a bad attitude about it because he felt as though he stood out too much. He preferred to blend in.
But, his attitude changed when the Lord used His red hair during his seminary days. As the only one in his class with that red hair, Lewis Chafer, the president of Dallas Seminary, noticed him. So when Dr. J. Vernon McGee asked Dr. Chafer for a recommendation for a new staff member at the Church of the Open Door in L.A., Dr. Chafer said he had noticed this young man with red hair so why don't you check him out. Dr. McGee did, hired him and that decision is what moved my father and mother to L.A. That then led to our later move to Phoenix where he pastored for almost 30 years.
Looking back, that red hair became the impetus for a chain reaction of ministry that God used and is still using to this day. Such opportunities occur as we let go of attitudes of resentment or frustration because we do not like who we are or aspects of our lives. Once we accept how God has made us and shaped us by removing the old lifestyle and attitudes, He will free us up for something new and greater.
Paul even speaks to this in a more fundamental way: But when the fullness of the time came, God sent forth His Son, born of a woman, born under the Law, so that He might redeem those who were under the Law, that we might receive the adoption as sons. (Galatians 4:4, 5)
At the right time in history, God removed the bondage of the law and a slave-like relationship to redeem us from sin and free us up as we begin a new life as His child. As we continue to submit to His guidance, He continues to care for us as a loving Father. Let's trust in His timing and work in our lives as He works in and through us.
I am thankful for the things I have learned from a loving father on earth as God worked in his life. I pray that all of us can grow and remove attitudes and deeds to be freed up and pursue all that our Lord has in the future.
Join us this Sunday at either 9:00 or 11:00 as we explore this new life as God's adopted child. Looking forward to celebrating Father's Day with you and worshiping Jesus together.
David Mitchell
Senior Pastor


P.S. For Father's Day, there will be a Photo Spot in the lobby with props, so be sure to snap a selfie with your dad and post it with the hashtag #calvarylife to let everyone see it on Facebook or Instragram.





Calvary Weekly Email
Sign up to receive the weekly Calvary email of the Pastor's Blog to get biblical insights and ministry updates on life at Calvary as we follow Jesus together.