This Mother's Day is Different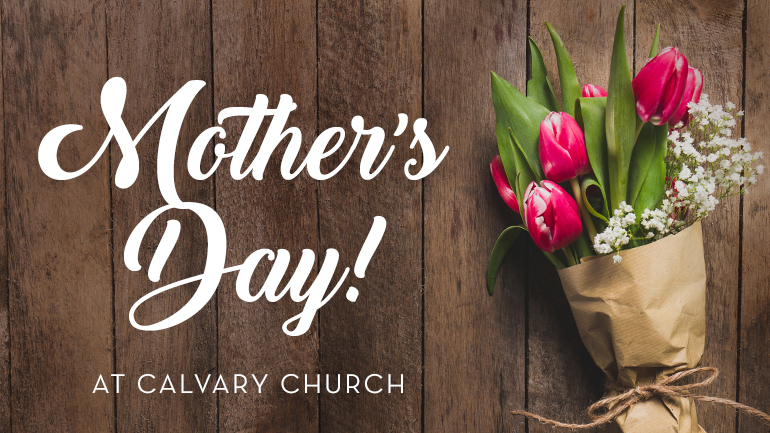 Dear Calvary Family,
Mother's Day is different for me this year. My mom just died this past September and this day is hitting me in a whole new way. To put it plainly, I'm pretty sad. I always knew that this day was hard for people who didn't have a mom who loved them well, who struggle with fertility issues or who have lost their mom.
I knew about it but I didn't know it.
Now I know it. And frankly, I don't like it. I'm trying to do a few things in it that are more specific to my situation:
1) Experience the grief. Lean into it. Don't cover it up. Music always stirs up my emotions. I was listening to a song called It's Quiet Uptown from the Hamilton Musical soundtrack while driving down to see her for the last time. That song always makes me cry now and I actually think it's a good thing.
2) Remember the joy. Celebrate the person that is lost. Tell stories of the awesome ways that person impacted your life. For me, it's the little things and it's food. I think about Swedish pancakes, oatmeal chocolate chip cookies, and ground beef and gravy over mashed potatoes. All of those foods represent the nurture and care of my mom and I love it.
3) Honor the mom in your life now. For me, it's all about honoring my wife. This Mother's Day we are going to grab some food from Bear Flag Fish Co and sit on the beach watching the sunset. My kids will give cheesy and cute handmade cards and we will do our tradition where we always go in a circle a few times saying the things we love about the person we are celebrating. You probably have a mom-type figure in your life. Honor that woman this Sunday.
4) Look to Jesus. Everything might be easy, happy and free in your life on Mother's Day. Look to Jesus. Everything might be awful on Mother's Day. Look to Jesus. Let's keep our eyes fixed on God and the good news about Jesus and we will have the right perspective on anything that comes our way.
We will be celebrating moms this Sunday at Calvary, but mostly looking into an amazing passage in Galatians 2 where people were able to disagree well and knew the focus of their purpose and calling. So in the midst of disagreement there is unity. That's probably a good lesson for family get-togethers as well!
May the Lord bless you and keep you this day! See you Sunday!
Eric Wakeling
Executive Pastor





Calvary Weekly Email
Sign up to receive the weekly Calvary email of the Pastor's Blog to get biblical insights and ministry updates on life at Calvary as we follow Jesus together.