Thoughts on Worship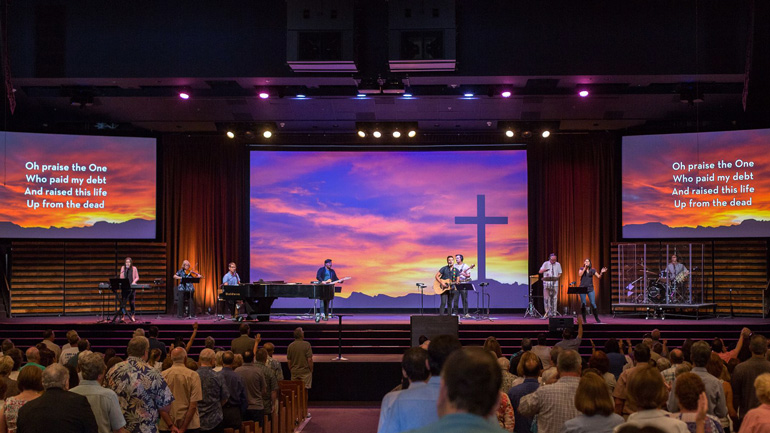 Dear Calvary Family,
One of the great opportunities and privileges in serving the local church is to gather for corporate worship. That experience can be life changing for us as we come before the Lord to offer Him our sacrificial worship.
The reason we gather as one body is to encourage and equip one another in our following of Jesus in our everyday lives. As we encounter the truth of the gospel and engage our living Savior together on Sunday, we are better enabled to counteract the forces of this world each day of the week. Martin Luther captured the importance of corporate worship with these words:
"At home in my own house, there is no warmth or vigor in me; but in the church when the multitude is gathered together, a fire is kindled in my heart and it breaks its way through."
I would like to recap some of my thoughts from last Sunday and hopefully bring even more clarity to where we are going as a church in our worship.
There are unchanging values we seek to maintain in our worship gatherings:
• All that we do - our songs, sacraments, prayers and preaching – helps us respond to the unifying truth of the gospel and grow as followers of Jesus into His likeness.
• Singing lyrics that are biblically correct and that exalt the Trinity of God our Father, Jesus the Son of God and the Holy Spirit.
• Use of music that allows heartfelt, passionate worship as we all join in together.
• Worship that engages multiple generations to honor our eternal Lord.
• Volume that is monitored and maintained at safe levels.
• And the highest value is to "worship the Father in spirit and truth." (John 4:23)
And there are some things that are able to be changed in our worship gatherings:
• Up front leaders and instruments will be chosen each week to facilitate engaging, passionate worship.
• Music can have moments of robust praise and times of quiet reflection.
• Invite a variety of responses such as communion, kneeling, prayer and giving depending on the biblical theme of that morning.
• We will use a variety of historic hymns along with newer songs that provide additional expressions of worship. Many scriptures teach us the importance of using new songs. Psalm 33:3; 40:3; 96:1; 98:1; 144:9; 149:1; Isaiah 42:10; Revelation 5:9; 14:3
• In our pursuit of unity and inter-generational connection we are no longer using the labels of Celebration and Elevation, but have introduced something new which our entire church family can participate in together.
As we move forward, we want our times together in the Worship Center to continually grow in and be guided by the following principles:
We are seeking to avoid a consumer-minded worship service where each person "gets what they want." Instead, develop a God-centered worship so we each can give to Him what He deserves. There is a tendency today where worship through music can feel more like a concert where believers go to the church that offers them the performance they prefer. And at times, genuine participation can be missing. We must remember Jesus Christ is the audience and we are His choir gathered to praise Him.
In the Old Testament, worshipers would come to the altar to offer a blood sacrifice from their livestock. Today, each of us is that living sacrifice giving our very lives to Christ in worship. Romans 12:1 says, "Therefore I urge you, brethren, by the mercies of God, to present your bodies a living and holy sacrifice, acceptable to God, which is your spiritual service of worship."
In Revelation 4:9-11 the heavenly worshipers have been given crowns to honor their service on earth. But, when they worshiped Christ, they realized that their needs and desires were nothing compared to what Christ had done for them so they cast those crowns to Christ in worship. The saints "will cast their crowns before the throne, saying, 'Worthy are You, our Lord and our God, to receive glory and honor and power; for You created all things, and because of Your will they existed, and were created.'"
We need to grow so we learn how to worship our Lord with a selfless heart of love for Jesus Christ and one another. Sundays help us to humbly learn to submit our personal desires and focus on the greater good of serving Christ through His church. Music is so subjective and at times the songs selected may or may not be what we prefer. However, when we gather as the body of Christ, we focus on what is best for our Lord and the greater body of Christ.
Think of your family sitting down at dinner. As a child, my mother made a home cooked meal each night. Whatever was on the dinner table was what we all ate. I could not order mac and cheese nor could my sister order a quiche. And I could not run to the house down the street and see what they are serving for dinner and whether I would like it better than what my mother cooked. We ate what we were served because it was not about me, and I was part of a family, so what had been prepared was what we ate together as a family. That is how Sunday worship should work as we mature and grow together into the likeness of Christ. And that is how it will be in heaven.
Revelation 7:9-16 reveals a worship experience in heaven. One of the worship leaders noticed a number of new people now worshiping Christ that he had not seen before. He asks, "who are these new people?" One answers that these are those who were martyred in the tribulation on earth. They suffered greatly before entering heaven. But, once in heaven, they did not hold back on their worship of Christ. Why could they worship so selflessly and passionately? Because they had been forgiven by the "blood of the Lamb" and their hearts were fully prepared for that time of worship. There was no complaining about mistreatment on earth or any quarreling about things that bothered them.
These new worshipers were from every nation, tribe, people and tongue standing before the Lamb and shouting loud: "Salvation to our God who sits on the throne, and to the Lamb." And all the angels were standing around the throne and around the elders and the four living creatures; and they fell on their faces before the throne and worshiped God, saying, "Amen, blessing and glory and wisdom and thanksgiving and honor and power and might, be to our God forever and ever. Amen." (Revelation 7:10–12)
It is interesting that when these saints in Revelation gathered for worship, the burdens, problems and mistreatment of this world melted away as they focused on Christ and what He has done for them. Seeing people from many cultures and walks of life gather around the throne of God in praise and adoration captures our desire to be Better Together. Sunday mornings, in some small way, can help paint that picture of heaven for each of us.
Please join us each week with these images of worship from Revelation 4 and 7. Many of those saints suffered greatly and life was so unfair, yet their first desire in heaven was to praise and worship Jesus. Their focus was not on what they wanted but on what Christ deserves. I pray our hearts continue to grow together in that worship on earth so we are ready for the face to face worship with Christ in heaven. May each Sunday help us grow in our faith and prepare us more and more for that heavenly worship.
Therefore, join us Sunday with:
• Hearts fully prepared and forgiven by the "blood of the Lamb."
• Hearts ready to focus with praise to Jesus Christ.
• Hearts that gather to please the Lord and not ourselves.
• Hearts that give God what He deserves and not just what we want.
• Hearts where the cares of this world pale in comparison to the glory and majesty of Christ.
Thank you for being part of our family so we can worship together before our Lord.
David Mitchell
Senior Pastor



Calvary Weekly Email
Sign up to receive the weekly Calvary email of the Pastor's Blog to get biblical insights and ministry updates on life at Calvary as we follow Jesus together.