What This Weekend is All About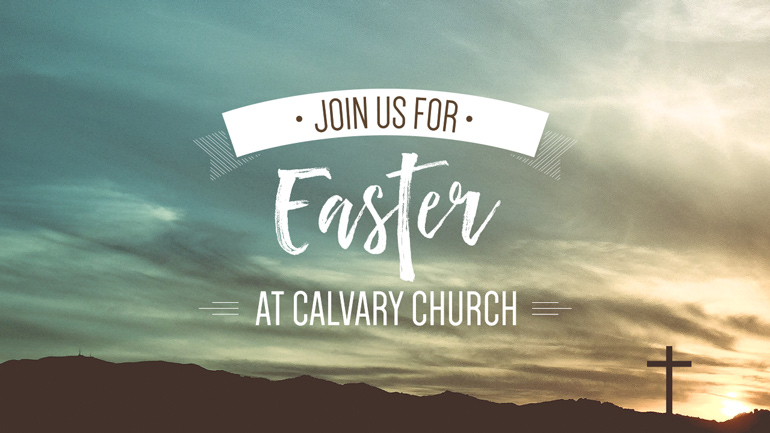 Dear Calvary Family,
Let me take you back in time to an old story that is relevant for us this week.
Babe Ruth, the famous baseball player, had his share of personal problems. At the end of his career he had hit 714 homeruns, but in one of his final games when the Braves played the Cincinnati Reds, he was not as agile or coordinated; he fumbled the ball and threw it badly. In one inning his errors were responsible for 5 runs by the Reds.
As Ruth walked off the field, all he heard were boos from the fickle fans. At that point, a young boy jumped out of the stands and ran to Ruth in tears and quickly threw his arms around him. Ruth did not hesitate for a minute to hug the boy and sit down with him as he patted his head.
Suddenly, the crowd grew quiet. No more boos. Fans saw a little boy run and embrace this failed hero, and his unconditional love quieted the angry crowd. He melted the crowd's hearts—this love changed them from angry, hate-filled people to quiet and respectful fans.
As we celebrate the resurrection of Jesus, this sacrificial love on the cross and resurrection from the dead is God's demonstration of His love for us. Paul reminds us to not think too lightly of His kindness to us since it is His kindness that softens our hearts into repentance: Or do you think lightly of the riches of His kindness and tolerance and patience, not knowing that the kindness of God leads you to repentance? Romans 2:4
Let's remember what this weekend is all about. Paul describes the core message: For while we were still helpless, at the right time Christ died for the ungodly. For one will hardly die for a righteous man; though perhaps for the good man someone would dare even to die. But God demonstrates His own love toward us, in that while we were yet sinners, Christ died for us. Romans 5:6–8
Therefore, our calling is to also demonstrate our love for others so, in God's time and way, their hearts may soften in repentance and faith in our resurrected Christ. We celebrate that great love of God this weekend in praise and adoration, but we also can celebrate it as we love our family and friends so they can see the life of Christ in each of us. Whose heart will soften with your kindness and love?
Who will you invite this weekend to our Good Friday service to honor our Savior's death? And, who will you reach out and bring with you to celebrate the new life of our eternal King this Sunday? Our prayer is that the thousands who come to Calvary this Easter are able to experience the abundant life of Jesus' kingdom with joy in His presence, faith in His power and hope in His return.
David Mitchell
Senior Pastor





Calvary Weekly Email
Sign up to receive the weekly Calvary email of the Pastor's Blog to get biblical insights and ministry updates on life at Calvary as we follow Jesus together.