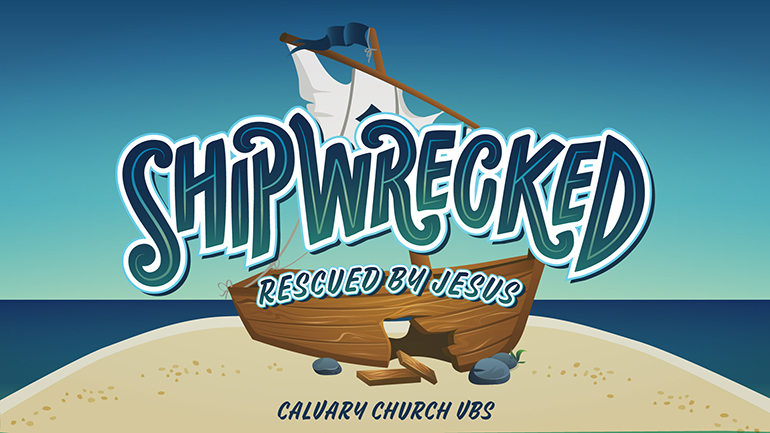 WHAT TO EXPECT AT VBS

DAILY ACTIVITIES
VBS is an exciting, fun-filled, Bible-based program your kids will love. Each day, kids go through awesome stations with their crews (small groups of about 10 kids and two leaders). Everything starts with our elementary kids together with our opening program in the Worship Center. Kids will then rotate around campus through snack, Bible, craft, missions and recreation. Kids will learn one important Bible Point each day which is reinforced through stories, scripture, songs and hands-on activities that help kids know more about God's wonderful love.
VBS WEEK | JULY 23-27 | 9:00-12:30
Join us for FREE adventures at SHIPWRECKED VBS, where kids will explore these life-giving lessons each day:
Monday: When you are lonely...Jesus rescues!
"The Lord will hold me close." Psalm 27:10
Tuesday: When you worry....Jesus rescues!
"The Lord comes to the rescue each time." Psalm 34:19
Wednesday: When you struggle....Jesus rescues!
"Be still and know that I am God." Psalm 46:10
Thursday: When you do wrong...Jesus rescues!
"Here on earth you will have many trials and sorrows. But take heart because I have overcome the world." John 16:33
Friday: When you're powerless...Jesus rescues!
"This is the same mighty power that raised Christ from the dead." Ephesians 1:19-20
Sign Up for the Daily Adventures

VBS SUNDAY | JULY 29 | 10:00-11:30
To finish off a great week, join our whole church family as we gather together at 10:00am on Sunday, July 29 for our closing program. Nursery program available in Calvary Town. Everyone else will be together for the One Service Sunday. Plan to stay and wrap up the celebration at the After Party on the patio.

Discover More About VBS
Find answers to common questions in the VBS FAQ.