CURRENT SERIES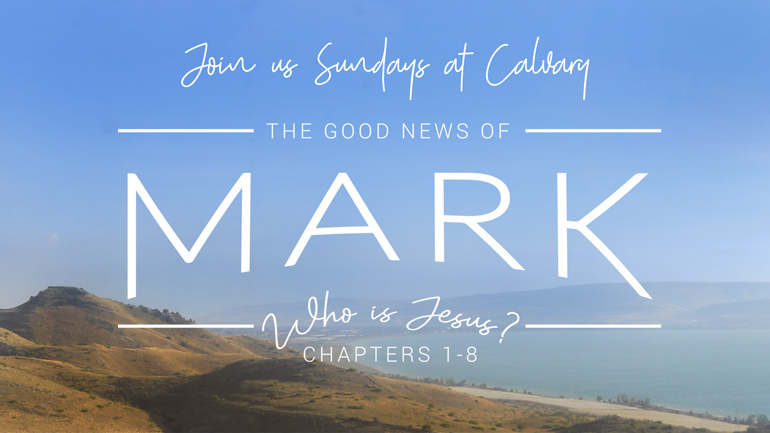 THE GOOD NEWS OF MARK: Chapters 1-8
January 7 - August 5, 2018
Who is Jesus? Perhaps you have never considered that question or you have spent a lifetime getting to know Him. Wherever you are on the journey, we invite you to come and explore who Jesus is and His life-changing invitation to "Come, Follow Me" in our Sunday morning series through the Gospel of Mark.


Mother's Day at Calvary - May 13
We hope you can join us for Mother's Day at Calvary. We are pausing in our series through the book of Mark in our services at 9:00 + 11:00 to learn from the story of three women in Exodus 2—all reflecting aspects of God's character and each vitally instrumental in carrying out God's purposes for His chosen people.
And for Mother's Day, we also have a Photo Spot set up outside on the Patio. Stop by to take a picture after the service and share it on Facebook or Instragram using the hashtag #calvarylife

What to Expect
Here are some commonly asked questions about what to expect on Sunday mornings at Calvary:
When are your worship services?
We would love to see you at one of our Sunday morning services as we gather across cultures and generations to worship Jesus together:
Worship Center · 9:00am + 11:00am (ASL Available)
Samsvick Chapel · 11:00am (en Español)
MAY 27 ONE SERVICE SUNDAY · 10:00am - Learn More
What is happening for children and students?
Calvary has a a unified spiritual formation ministry from crib to college. We want to partner with families to see the next generation have a vibrant life in Jesus.
CHILDREN'S MINISTRIES at 9:00am + 11:00am
Baby Lane · Birth-36 months · Worship Center Nursery
Playhouse · Preschool/K · Various A,B,C Classrooms
Junction · 1st-3rd Grade · Room D-4
Fuel · 4th-5th Grade · Room C-200

STUDENT MINISTRIES at 9:00am
The Spot · Middle School · Student Underground - Blue Line
EDL · High School · Student Underground - Yellow Line
Learn More about Student Ministries
What is available at Calvary beyond the worship services?
Worship gatherings are a core part of life at Calvary, but there is much more to the Christian life than attending a service each week. Take a next step in your faith and experience the full life Jesus offers:
Get involved locally and globally
How do I get to Calvary?
Calvary is located at 1010 N Tustin Ave, near the 5 and 55, in the heart of Orange County. Parking is accessible by turning off of Tustin Avenue onto either Wellington Avenue or Fruit Street.