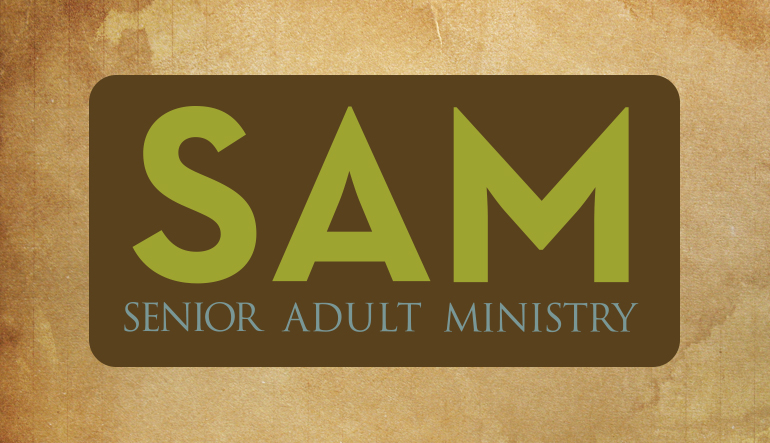 We call ourselves SAM and we have a goal, based on the verse in the Bible that encourages us to "...become blameless and harmless, children of God without fault in the midst of a crooked and perverse generation, among whom you shine as lights in the world." (Philippians 2:15)
Monthly Dinners
Adults of all ages are welcome to join us for an enjoyable evening of delicious dining, melodious music and a guest speaker - all for only $15 per person!
These events take place on the third Tuesday of the month at 6:30 p.m. in the Fellowship Hall (Except for July, Aug and Dec). Tickets are available in the patio Sunday mornings prior to the dinner. Come join us for food, fellowship, and faith building. We look forward to meeting you!

SAM Weekly Events
Wednesday Afternoon Bible Study
Join us for Bible study each Wednesday at 1:30 pm in Fireside Room. Bob Foyle is teaching for the month of February.
Grandparent Matters (formerly known as "Praying for Grandchildren")
1st Sunday of Each Month · 12:15 pm · N-1
We are a group of grandparents that meet together to pray for our children and grandchildren and encourage each other with prayer, DVDs, discussions, and tips. Please bring your own lunch.
UPCOMING EVENTS IN 2019:
Adult Ministries Dinner: Tuesday, Feb. 19, 2019 6:30pm in Fellowship Hall. Guest speaker: Steve Gertsen, US History Teacher here at Calvary Christian School. Tickets $15. for sale on Sundays on the patio or call Beth Green for more info. 714-914-1644.
March Dinner: Tuesday, March 19. A Night to Honor Liz Gold, former Missions Director at Calvary Church.
National Conference on Christian Grandparenting
February 21-23, 2019 | EV Free Church in Fullerton
Register at legacycoalition.com/summit. For more info, email
Mike Stand and The Altar Billies Concert: Sat. March. 2, 7:00pm-9:00pm. Fellowship Hall. Rockabilly and Gospel Music. Fun for all ages. Bring your family and friends. Tickets $5/person includes dessert! Tickets for sale on the patio on Sundays or at the door. Call or email Stephanie for more info: 714-550-2455.
"SAM Times"
Monthly newsletter - sent out the first of each month to keep Seniors in tune with what is happening during the month and opportunities to participate or serve.
For more information on SAM activities please call Pastor John Sherman at 714.550.2320 or contact Stephanie Christian at 714-550-2455 or email at