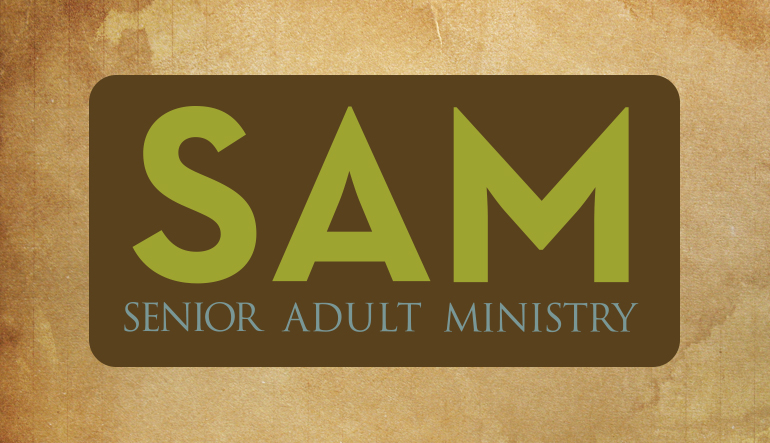 We call ourselves SAM and we have a goal, based on the verse in the Bible that encourages us to "...become blameless and harmless, children of God without fault in the midst of a crooked and perverse generation, among whom you shine as lights in the world." (Philippians 2:15)
Monthly Dinners
Adults of all ages are welcome to join us for an enjoyable evening of delicious dining, melodious music and a guest speaker - all for only $15 per person!
These events take place on the third Tuesday of the month at 6:30 p.m. in the Fellowship Hall (Except for Aug and Dec). Tickets are available in the patio Sunday mornings prior to the dinner. Come join us for food, fellowship, and faith building. We look forward to meeting you!

SAM Weekly Events
Wednesday Afternoon Bible Study
Join us for Bible study each Wednesday at 1:30 pm in Fireside Room.
Grandparent Matters (formerly known as "Praying for Grandchildren")
1st Sunday of Each Month · 12:15 pm · N-1
We are a group of grandparents that meet together to pray for our children and grandchildren and encourage each other with prayer, DVDs, discussions, and tips. Please bring your own lunch.
UPCOMING EVENTS IN 2019:
Special Event! Murder Mystery Dinner: Sat. May 4, 6:00-9:00pm at the home of Paul and Sandi Licata. Come mingle, have dinner and mingle some more while trying to solve the murder. Everyone has a part. Everyone is a suspect. Dress as the character you'll be assigned. Prizes for best costume. Tickets $15 on sale on Sundays on the patio. Rsvp required by April 29. Limited to 36 people. 714-241-7361 Licata home.
Adult Ministries Dinner: Tuesday, May 21, 6:30pm in Fellowship Hall. "An Evening With Trish". Our very own Trish Folsom will delight us with her beautiful piano music. $15/person. Available on the patio on Sundays.
Beach Party: Sat. June 1, 5:00pm at Corona Del Mar State Beach. All ages welcome. Bring your kids and grandkids. We will provide the wood, paper goods, smores, and condiments. Bring your own drinks, hot dogs or whatever main dish you'd like, and bring an appetizer or dessert to share. Also bring a beach chair and light jacket.
BBQ and Hobby Night: Saturday, June 22, 4:00pm featuring music by The Blue Grass Brethren. Fellowship Hall. Tickets $15/person. Available on the Patio on Sundays.
Adult Ministries Dessert: Tuesday, July 16, 6:30pm Guest speaker Gary Richmond Storyteller. Tickets $5.
Movie Night! Friday, August 2, 7:30pm at the home of Blair and Trish Folsom. Dessert Potluck. More details to come!
"SAM Times"
Monthly newsletter - sent out the first of each month to keep Seniors in tune with what is happening during the month and opportunities to participate or serve.
For more information on SAM activities please call Pastor John Sherman at 714.550.2320 or contact Stephanie Christian at 714-550-2455 or email at