LEADERSHIP UPDATE · FALL 2018
God is leading us into a new season in the life of Calvary Church and we are excited for the journey ahead. We believe that the challenges this change brings will be used by God for His glory and our growth — both as individuals and as a church body as the Apostle Paul urges in Ephesians 4:1-16.
Our church leadership, including all of our Pastors and Elders, share a common hope and prayer: for a God-driven grace, a Spirit-led unity and a Christlike love to abound in the days ahead. Our church family has many ways we can grow as every generation comes together to worship each week. And, we hope you will join us for the journey!

NEW SUNDAY SCHEDULE · STARTING SEPTEMBER 2, 2018
8:00 AM - GROUPS
· Early Morning LifeGroups for Adults
· No Children/Student Ministry Programs available
9:30 AM - WORSHIP
· All Together in the Worship Center
· Nursery-5th Grade Programs Available
11:00 AM - GROUPS + CLASSES
· Late Morning LifeGroups & Classes for Adults
· Nursery-High School Programs Available
· Spanish and Mandarin Language Worship Services
---
SUNDAY MORNING ON CAMPUS LIFEGROUPS


8:00 AM
Women's Bible Study · W-North Conference
Join us for discussion and life application as we study together in this community of ladies who pray for and support one another.
Prayer Gathering · W - Prayer Room
Come Sunday morning to pray before the Worship Service for God's presence and leading in our services and ministries. All are welcome.


11:00 AM
Berean Bible Fellowship · N-2 · Adults 50+
We discuss the Word to help us grow in our Christian walk in this fun and caring group of people who love the Lord and each other.
Bridge Adults · N-1 · adults with and without disabilities
An inclusive group who share life, faith and God's Word in a way that is accessible to various learning styles and communication abilities.
Disciplemakers · W-209 · adults all ages
We focus on foundational biblical truths that make up the crucial components of developing spiritual maturity and discussion with friends.
Encouragers · Fireside · adults age 50+
We encourage one another in prayer, glorifying God in worship, and studying God's Word in this fun community of friendship and love.
Focus · Choir Room · adults all ages
Come discover great friendship, fellowship and teaching to develop a more intimate relationship with God.

Homebuilders · G-213 · couples age 60+
This class seeks to grow closer to the Lord and each other through Bible study and fellowship. We love interactive discussion and laughter.
In The Middle · Library · adults age 40+
Connect with others parents of college students and young adults as we share interactive Bible studies, praises and prayers, joys and struggles.
Influencers · S-5 · adults age 50+
We are here to help you connect more intimately with people at Calvary, grow in your relationship with God and reach out to others.
Marital Journey · B-202 · couples married 5+ years (with young kids)
Enjoy a variety of discussion topics including marriage, parenting, and spiritual growth built around prayer and fellowship.
New Life Counselors · S-7 · adults age 70+
For senior adults committed to understanding the Word and growing from studying Scripture in depth.
Parenting through Prayer · N3 · couples age 35+
Our group meets together to encourage each other in prayer, Bible study, and fellowship as we navigate through unique family challenges.
Parents of Teens · A-202 · parents of 6th-12th graders
We're parents working on our own spiritual journey and exploring how our life stories impact how we parent, so we can better connect with our kids.
Professional Single Women · S-1 · (1st/3rd Sundays)
Single women in professional careers meeting together to share life with one another through encouragement, prayer, and study.
Young Adults · C-202 · adults age 20s-30s
Connect with this encouraging community of singles and couples, ages 22 - 32, who study God's Word and walk through life together.
---
SUNDAY WORKSHOPS - FALL 2018
In addition to LifeGroups, we have short-term series of workshops designed to equip you in particular areas of life.

11:00 AM

Teaching Pastor Connection · W-Auditorium
Meet up after the service in the auditorium to connect with each week's Teaching Pastor, take part in an interactive discussion on the sermon and dig deeper into God's Word together.

The Art of Neighboring · A-205 · Oct 14 - Nov 18
What if Jesus meant that we should love our actual neighbors? Join us for thought-provoking and practical discussions that could transform not only your life but also your community. Discover weekly topics at calvarylife.org/neighboring
In Defense of Christianity · Choir Room · Oct 14 - 28
Have you ever wondered what proof we have for the Gospels? Or how we know Jesus was a real person? Join us for a three-week workshop with John Stewart as we learn about the scientific and historical truths that justify our faith. calvarylife.org/defense
Raising Financially Freed-Up Kids · B-205 · Oct 28 - Nov 18
Learn 7 key principles, plus practical action steps, that you can learn to implement with your kids from preschool up through high school during this free 4-week study. (Materials fee $8) Register today at calvarylife.org/generous
GriefShare · W-Conference North
You don't have to go through the grieving process alone or unequipped. Connect with others who will walk alongside and provide you with resources for the journey. Find details on both Sunday 11am and Tuesday 7pm sessions at calvarylife.org/grief
---
OPPORTUNITIES TO SERVE
With these changes come new opportunities to get involved and help pursue our vision to be a church family that is better together, being changed by the Gospel to love like Jesus across all cultures and generations. We need help in many areas to make this happen and continue to build a warm and welcoming community.
Will you consider joining one of these Sunday morning teams? Give of your time and make a difference in others lives!
CHILDREN: Nursery-5th Grades
STUDENTS: Middle School + High School
SPECIAL NEEDS: Bridge Buddy for Kids, Bridge for Adults
CONNECTIONS: Greeter, Usher, Parking, Campus Safety, Medical
SUPPORT: God's House Care, Bulletin Prep
WORSHIP: Music, Tech, Communion Prep, ASL
CARE: Stephen Minister, VIPS, Counselor
LIFEGROUPS: Leader, Host Home
Take a next step and learn more about how you can serve somewhere this fall. Visit Connection Point in the Worship Center Lobby on Sunday mornings to learn more. Or, send an email to or follow the link below to discover more today.
---
A PRAYER FOR OUR CHURCH FAMILY
"For this reason I bow my knees before the Father, from whom every family in heaven and on earth derives its name, that He would grant you, according to the riches of His glory, to be strengthened with power through His Spirit in the inner man, so that Christ may dwell in your hearts through faith; and that you, being rooted and grounded in love, may be able to comprehend with all the saints what is the breadth and length and height and depth, and to know the love of Christ which surpasses knowledge, that you may be filled up to all the fullness of God.
Now to Him who is able to do far more abundantly beyond all that we ask or think, according to the power that works within us, to Him be the glory in the church and in Christ Jesus to all generations forever and ever. Amen."
Ephesians 3:14-21
---
COMING THIS FALL

THE GOOD NEWS OF MARK: CHAPTERS 8-10
"JESUS' UNEXPECTED WAY"
SUNDAYS · SEPTEMBER - NOVEMBER 2018
Join us Sundays this fall to explore the pivotal chapters at the center of Mark's gospel. They reveal how Jesus' kingdom will come in an unexpected way. Victory won in suffering. Power earned by serving. Blessing out of struggle. Gaining through giving. Freedom found in following. The impossible made possible. Come discover the life-giving way of Jesus as we join Him on the journey together.
Worship Service Locations + Times
We would love to see you at one of our Sunday morning services as we gather across cultures and generations to worship Jesus together:
WORSHIP CENTER · 9:30am (English/ASL)
SAMSVICK CHAPEL · 11:00am (Español)
Plus, there are great programs for kids and students
NOTE: All Church Service - Sunday, November 25 at 9:30am
Everyone 1st Grade and up from English, Spanish and Mandarin congregations together in Worship Center. Nursery-K ministries available.

Directions
Calvary is located at 1010 N. Tustin Ave in Santa Ana near the 5 and 55 in the heart of Orange County.
---


PAST UPDATES
LEADERSHIP UPDATE · MARCH 2018
Dear Calvary Family,
We had an incredible service yesterday on our first Sunday of Reach Week. I highly encourage you to be part of at least one event this week. You can find out more here.
We also gave an update yesterday on our thinking regarding the idea of moving to One Service every Sunday. We had two in-person Q&As, some informal feedback and over 300 surveys filled out. The surveys are more positive towards having One Service each week with a lot of potential benefits. We found there to be some disagreement regarding what time the services would be offered. We also felt a sense that there has been a lot of new things happening lately and that can be difficult for many people.
In light of that feedback, we have decided to slow down a little. We still believe that One Service could be a great thing for our church, but at this time we have decided we will continue to pray and think through the best way to do it and the right time to implement it if we do move forward in this direction.
We are slowing down on this decision but that means we need to ramp up our efforts towards achieving the vision God has given us. We strongly believe that God has given us a mission for Each One to Reach One with the Good News of Jesus. We have been praying the 10:02 prayer together asking God every day to send us as workers for the harvest of evangelism. We pray that God would use us to see the people we interact with to be saved. We pray for Courage, Heart, Opportunity and Words to Say.
Easter is three weeks away. Let's take all the prayers that we have prayed and turn them into action. You've been investing. You've been praying for someone to invite. Now is the time to invite them. Our Easter services will be the perfect time for you to invite someone to church where they will hear the gospel. It would be amazing to invite someone to experience an Easter Sunday with you. Invite them to the service and then to have Easter brunch or lunch with you after the service. Make it more than just about a church service. Invite them to be family with you and see Jesus in you. Find out more here.
May the Lord bless you and keep you,
Eric Wakeling
Senior Pastor
---



LEADERSHIP UPDATE · FEBRUARY 2018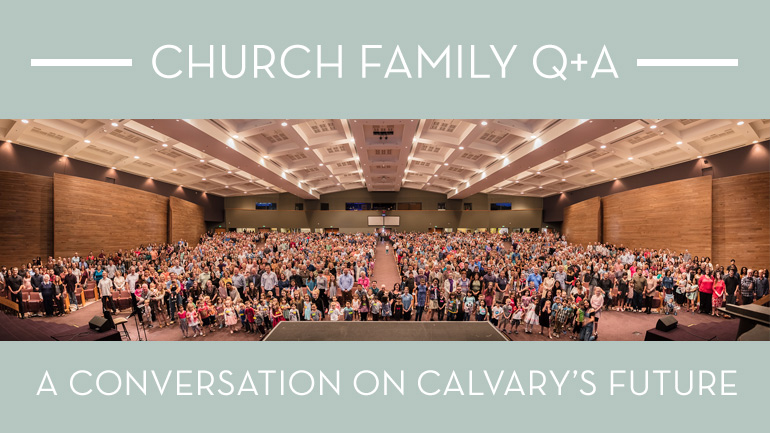 Dear Calvary Church Family,
As each one reaches one, we anticipate Calvary to be a growing church family. As new people visit, we want every guest to be warmly welcomed and experience what it's like to worship together in a dynamic, diverse and thriving community. In light of that, our Pastoral Staff and Elder Board have been discussing a big question for the past few weeks. Should we restructure our Sunday Mornings at Calvary to create a One Service worship experience together in the Worship Center each week?
We believe this is a needed change worth exploring. But before we move forward, we want to hear from our church family and commit this to prayer. We also want to talk about some of the factors that have moved us in this direction. After recent experiences with One Service Sundays, people have reflected that it was "the best Sunday." We want to have "the best Sunday" every Sunday. We want to use the blessing of the Worship Center to best maximize ministry on a weekly basis and accomplish the vision God has given us for today.
For the past 25 years, the auditorium has been less than half full on a typical Sunday. According to church growth experts this feeling of emptiness has acted as a barrier to growth, likely contributing to seasons of plateau and even decline. As we prepare for growth, we will need to make some significant shifts in our status quo. Coming together for One Service every week is a shift we believe can lead to potential growth as more people are reached for Jesus Christ.


Sunday Morning Format Benefits + Obstacles
Growth Points Join the Conversation
Read the Leadership Update from Pastor Eric
---
What could the new Sunday Morning at Calvary look like?
After considering different scheduling options, this is the format our Pastors and Elders think best fulfills our vision and purpose as a church, yet we remain open to other possible models:
9:00-10:10 am LifeGroups
· Most Adult LifeGroups would meet at this hour.
· Family Ministry programs would be available for Nursery through High School.
· Preschool-12th graders would also meet in LifeGroups.
· Special short-term classes offered.
· Grab a cup of coffee and hang out with a group of friends on the patio.
10:30-11:45 am One Service
· This service would be for 6th Grade and older worshiping together in One Service.
· It would be in English with American Sign Language available.
· Our Spanish and Mandarin language services would continue in their venues and have the same start time as the new One Service.
· Children's Ministry programs would be provided for Nursery to 5th grade.
· A few times a year, for special Sundays like Baptisms and VBS, we would still have a Family-Style Service with everyone 1st Grade and up in the Worship Center, including our Spanish and Mandarin language congregations.
· And for high visitor Sundays like Easter and Christmas, we would replace the LifeGroup hour with an additional Worship Service.
12:00-1:10 pm LifeGroups (optional)
· Adults who wish to meet from 12:00-1:10pm could enjoy LifeGroup & Lunch on or off campus.
· No Children's Ministry would be available.
Below are some benefits and obstacles that we have considered. We're praying through this now and we want to be discerning and open to input from our church family before making a final decision.


---
Potential Benefits & Obstacles
Benefits
1. A One Service would help us experience what it's like to be better together every week. Recently we've experienced some special moments in the life of our church (Sep 3, Nov 12, Dec 31, Feb 4). We've also experienced some unique family time with Child Dedications, which half of our church family missed because they only occurred at the 11:00 am Service rather than both.
2. A One Service creates an environment in the room that is more warm, welcoming and full each week filled to an expected estimate of 70% capacity. Our hope is that this will encourage both healthy growth and greater opportunities for intergenerational connection.
3. A One Service creates opportunity to invite the whole church family to come together and build connection before and after the service.
4. A One Service better displays the breadth, beauty and diversity of our church family as we worship side by side together.
5. A One Service would be a strategic move toward achieving our vision and helping to create positive momentum moving forward.
Obstacles
1. This could be a change that might be hard for some or at a time that some do not prefer.
2. This would provide one less option for people to attend a Sunday morning worship service.
3. This might make it difficult for some children's ministry volunteers to attend the service each week. However, recruiting new volunteers would allow more of our current volunteers to rotate and attend the service more often.
4. This new One Service start time may conflict with other responsibilities/activities some have outside of Calvary.
5. If our church grows by more than 500 new people, we will need to add a second Sunday worship service and navigate more change when that occurs.


---
Growth Points to Consider in Future
1. The Worship Center capacity is 1880. Current averages are 750 people at 9am (45% capacity) and 525 people at 11am (30% capacity). Current 6th-12th grade is 175 people. If we came together to worship with 6th grade & up, we would expect an average of 1320 (70% capacity) in the One Service. This number takes into account up to 130 needed to serve in Children's Ministries.
2. We could potentially grow by 560 people (a 40% increase) before outgrowing seating capacity in the Worship Center. At this point, we could offer video overflow to provide an option for 250 more people.
3. Our Nursery capacity could also grow by moving 24-36 month toddlers to the A Building if needed.
4. Our intention is to reach out with the good news of Jesus and see more people in our community become part of Calvary Church. This will create a need to offer two different Sunday morning service times to provide space for our growing church family. We would want to see attendance averaging between 1900-2150 before adding back a second service option. When this happens, we could potentially have 950-1075 attending each service, which would be 50-57% room capacity and feel like a much healthier environment.


---

Join the Conversation
After hearing the heart behind this and seeing the thoughts that have been put into this, we would really like to hear from you! Thank you to those who filled out the printed and online surveys.
And, thank you to those of you who came to the two Church Family Q+A Meetings where we discussed this One Service possibility together on:
· Wednesday, February 28 from 6:00-6:45pm in Fireside
· Sunday, March 4 from 12:30-1:15pm in Fireside
Read the Leadership Update from Pastor Eric
Please join us now in praying for God's guidance in this as we pursue the vision to be a church family that is better together, being changed by the Gospel to love like Jesus across all cultures and generations.


Pastor Eric Wakeling