Construction is starting back up after VBS in the C Building as we create the new Student Underground. The goal is to finish by New Year's! We are so grateful for all of the giving and commitments that have allowed us to move forward. With these new commitments and a significant estate gift from Calvary's first ever youth minister, and then longtime missionaries to Japan, we can afford to finish the project.

Don and Mary McAlpine came to Calvary in 1948 when Pastor Wendt recruited Don to be a summer youth intern in Calvary's student ministries. They became interested in Missions during their time at Biola and answered the call from General MacArthur for 1000 missionaries for Japan after the war.
Over the course of their career as missionaries, they started 5 churches and ministered in Japan for 35 years. Don died suddenly in 1983 and Mary worked for 2 more years then came back and retired in Fresno. She was a prayer warrior and served teaching English to Japanese girls in her community until she passed away last year at age 96.
In her estate plan, Mary generously gave back to Calvary and with the proceeds from her estate, we have enough pledges to finalize the Generation Project! We are blessed to be able to make the Student Underground a reality and it is so exciting that some of the support came from a Calvary missionary family who started out serving Calvary's youth 67 years ago.
We celebrate the generations past who ministered to our youth and look forward to the many students that will be blessed in a future as a result of the Generation Project.
There is still $450,000 that has been pledged but not yet given, so we appreciate your continued support to complete this project without any borrowing. If there are any additional donations, they will go toward furnishing the space and improving our other existing buildings. Thank you for your faithful participation. We look forward to having a dedicated ministry space for our students soon!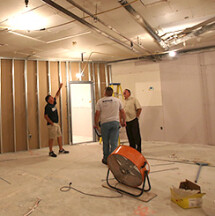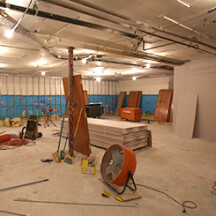 Photos of the Building Team on a walk through of the Student Underground in July.