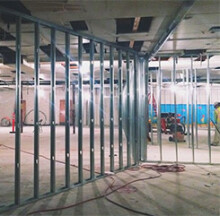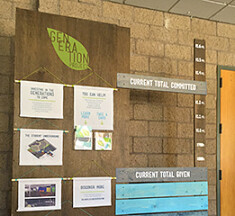 You might have seen some cranes at Calvary recently. We are replacing the 25-year-old air conditioning units on top of the C building with more energy efficient ones that will also be able to keep the newly configured Student Underground cool.
Some of the new walls in the basement are being framed out and the ceiling is being patched. We are on schedule to have the walls and mechanical systems completed by the end of the summer.
If we receive Generation Project commitments of the additional $200,000 needed to finish the project by that time, we can continue on to the final phase of finishing the space and put in paint, carpet, bathrooms and lights with the goal of finishing by Christmas.
Please join us in prayer for the safety of the crew working on the space, for the funds needed to continue the project and for the future students that will use the space.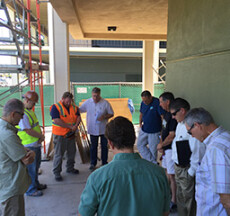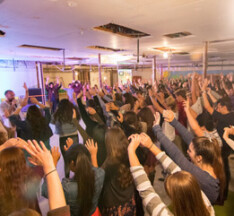 OPEN HOUSE // Sunday, May 3
Prayers were written for the generations to come on the foundation of the Student Underground during an Open House on Sunday, May 3 after each service. Hundreds of people came together to support the vision for this new, dedicated space for Calvary's Student Ministries in the C-Building basement.
VISION SERVICE // Sunday, April 26
The first ever student worship gathering was held in the future site of the Student Underground. Students heard the vision for this new, dedicated ministry space. They took on the Chair Challenge to raise funds for their own chair and another for a friend they can invite to hear about the love of Jesus. And, they wrote prayers and signed their names on the basement's foundation wall. Our students are so excited for the new opportunities this space will provide.