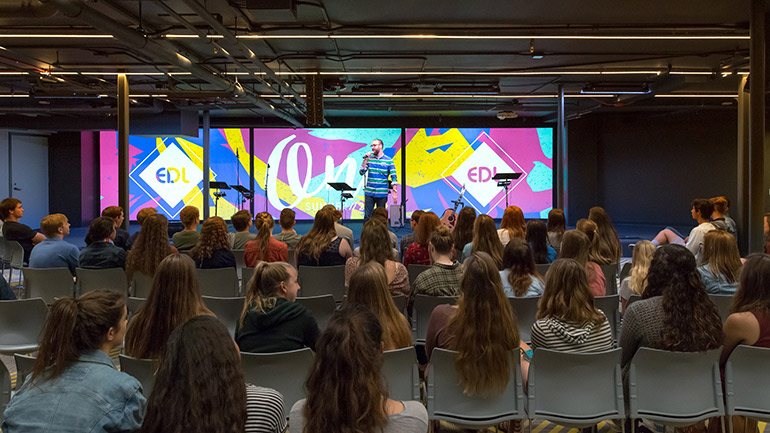 We are so excited that we passed the last city inspection last week and our Student Ministries is now meeting in the Underground! It is a blessing to see this space become a reality, from the planning that started over a decade ago, and we are thankful for all of you who prayed and gave throughout this process. Our students have responded with joy and gratitude to have this new place to enjoy time connecting with God and each other as they grow in their faith together.
View Photos from Opening Sunday

As the Generation Project comes to a close we wanted to specifically thank you again for your faithfulness in not only giving to the Student Underground but also to the many who have given throughout the entire Restoration Project. This has included creating a new Nursery and offices for ministry staff and counseling, remodeling Samsvick Chapel, and making needed campus upgrades in roofing and air conditioning.
Over the past 6 years, strategic improvements to every building on campus have been made possible for $5 million, above regular giving to our local and global ministries. We have received $4.8 million of the total so far and the remaining amounts have been pledged in full. We are appreciative of the ongoing generosity and wise stewardship of all involved, allowing for this work to be done without taking any loans. As everyone gives what they pledged through the end of 2016, the campus restoration will be debt-free!
Any additional funds given, beyond what is needed to pay final costs for the Student Underground, will be used for other physical improvements to upgrade campus security and energy efficiency, as well as to enhance signs, landscaping and outdoor fellowship spaces for all to enjoy.
Thanks again for your support and prayers for our campus to be an effective resource in reaching each generation with the life-giving message of Jesus, as we become a church that is better together.
CLICK HERE TO GIVE TO THE GENERATION PROJECT