WORSHIP SERVICE LIVE-STREAM ONLY THIS SUNDAY AT 9:30AM.

No on campus gatherings will be taking place until further notice, due to coronavirus precautions. We encourage you to join us LIVE online this Sunday for a special service centered around the love of God in a Covid-19 World.

WATCH LIVE VIA:
Facebook YouTube CalvaryLife.org/live
Please read for further updates below, including our FAQ
---
UPDATE - March 24, 2020


Dear Calvary Family,

We are living in challenging and unpredictable times. We have concerns for our own health as well as the health of our neighbors and loved ones. Throughout this season, the church is bringing the hope of the Scriptures as well as being the hands and feet of Jesus Christ to a hurting and lost world. We are continually praying for you and desire to help you with a variety of needs that you may have in this time. Please reach out for prayer or for assistance - you can call the church, reply to this email or learn more at calvarylife.org/help.

We also have some significant financial needs as a church at this time. The impact on the economy and not meeting in person on Sundays brings challenges, but we believe that God will provide and that there is no scarcity in God's economy. With that said, we are asking for you to be faithful in your ongoing giving to Calvary Church. Our giving is an act of worship and an opportunity for us to place our trust fully in the Lord. I recognize in myself the inclination to store up as an act of self-preservation for my family, but I continue to give as a way to spiritually battle against that attack on my faith.

I recently heard of a young man in his first real career job who decided to determine what his tithe would be for 2020 and give all of it now because he knew the church would need it at this time. In the video above, Bob Shank shares some wisdom and encouragement in this unique moment of history. He also shares how he is giving double his normal giving during this season. We know that not all of you are able to do that, but what is most important is that they both prayerfully and intentionally are giving to the Lord even when our deepest fears tell us to keep and store up for ourselves. Will you pray now and consider how you will intentionally give as worship even in this time of uncertainty?

Thank you for your incredible generosity!

You can give today by mailing a check to Calvary Church at 1010 N Tustin Ave, Santa Ana, CA 92705 or browse opportunities to give at calvarylife.org/give. If you have questions or need help with the process, please email Michael Welles at

May the Lord bless you and keep you,
Pastor Eric Wakeling
Give Online FIND HELP & GIVE HELP
---
UPDATE - March 20, 2020


Dear Calvary Family,

The world is certainly changing quickly! It feels like there is something new every single day. I'm a person that thrives in change, but this is even too much for me! The unknown is so difficult for all of us. Is this going to be as bad as some say? Am I going to be able to provide for myself and my family? Will I get really sick? Will my loved ones be okay? It's true that we feel out of control in this season of the coronavirus.

We will have an encouraging message of hope in our God from Psalm 23 this Sunday that will speak into our need for the powerful presence of God to provide, lead, comfort, protect, and give us His eternal perspective for life today.

Our first live-stream Sunday last week felt like one of those Sundays you will never forget. We had even more people participating in that worship service than we normally have on-campus on a regular weekend! Praise God! We believe that God can and will use this platform to help us reach people with the good news of Jesus.

Please join us again this Sunday at 9:30am at calvarylife.org/live or on our YouTube or Facebook pages (search Calvary Church of Santa Ana). We'd love for you to reach out to people you know and invite them to watch the service with you. You can email the link to friends. You can post about it in advance on Instagram or Facebook. You can tag your friends' names in the chat on our Facebook page during the service and it will invite them with a notification. You can even host a watch party on Facebook. So be bold and creative for the gospel in this brave new world.

We will also be adding to our schedule of online church soon with prayer meetings, Pastor Dave's midweek Bible study, and a weekly time of fun with me! Plus, LifeGroups and each area of life-stage ministry will be looking for ways to facilitate online interactions throughout the week to help you stay connected and equip you to be growing in your faith.

And, if you would like to find resources for reaching out to your neighbors or sign up to join our team of volunteers seeking ways to be good neighbors for our church family in need, please visit calvarylife.org/help

Finally, we ask you to be faithful with your giving to Calvary in this season. We are reaching out and ministering even more during this epidemic. Our staff is going above and beyond. Our missionaries around the world are still on the front lines. Please prayerfully consider what God would have you do. He calls us to be faithful and trust in Him as we give cheerfully out of what He provides.

WAYS TO GIVE:
Give online by Electronic Check or Credit Card at calvarylife.org/give
Text amount and keyword (General, Missions, ENF) to 714-203-2312
Mail a check to Calvary at 1010 N Tustin Ave, Santa Ana, CA 92705

May the Lord bless you and keep you,
Eric
---




UPDATE - March 13, 2020

Dear Calvary family,
We want to let you know what we are doing at Calvary Church to help our county health officials combat the spread of the Coronavirus – and the anxiety associated with it. There's a lot of info to cover in this update, but please read all of it so you have accurate information.
First, we want to encourage you to fix your thoughts on Jesus. He is at work even now. There is no need to fear or panic. Instead, look for opportunities to help and love others in His name.
With that important foundation in mind, below are answers to some questions you may have.
Plan for Church Services Live Stream Find Help & Give Help Stay Hopeful & Prayerful FAQ



WHAT WILL HAPPEN WITH CHURCH SERVICES?
On Wednesday, March 12, the California Department of Public Health issued a policy stating that "large gatherings that include 250 people or more should be postponed or canceled" at least until the end of March. They also said that smaller groups should be able to have a six foot distance between people attending. We want to do everything we can to be good neighbors and help reduce the spread of this virus.
In that spirit of Christ-like humility and placing the needs of others higher than ourselves, the pastoral leadership of Calvary Church has decided we will follow these recommendations and hold church services only via live-streaming online this Sunday, March 15th and March 22nd. We will not have On Campus services or LifeGroups this Sunday or of any kind through Wednesday, March 25th. Read below for more about how to watch live this Sunday.
In taking this extraordinary step, we want to communicate that Calvary is committed to the health and well-being of our whole community.
his decision has been made not only for protecting individuals here at Calvary, but also to "protect public health and slow the rate of transmission of COVID-19." The image below on flattening the curve should help you understand why this is important and why so many groups like universities and sports leagues are making these decisions to postpone or cancel.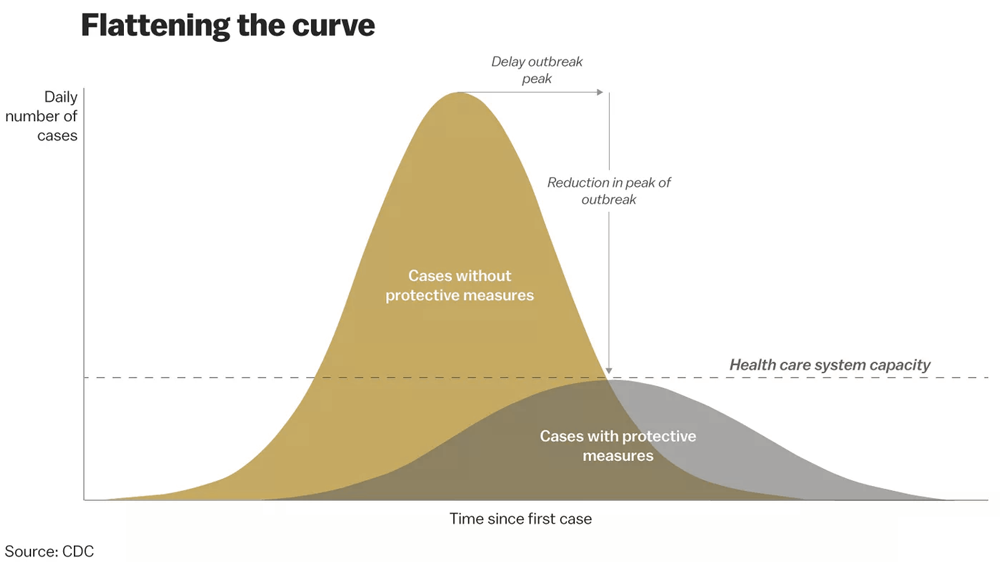 We also are very concerned for more at-risk members of our community. These include older adults (60+), individuals with compromised immune systems and individuals with serious chronic medical conditions like heart disease, diabetes and lung disease. The risk of death with this virus is much higher for these groups. We highly recommend people in these categories to stay away from large gatherings and even smaller gatherings during this season. Please stay at home if you are sick and wash your hands regularly to help protect these at-risk people we love dearly.
While we never want to respond to uncertainty with fear, we do want to be a church known for deep compassion and good citizenship. Let's place our trust in God and fix our eyes on Jesus during this challenging season and look for opportunities to help and love others in His name.



LIVE STREAM THIS SUNDAY
Church is not cancelled. It's just changed. Our mission continues!
While we are suspending our physical gatherings, we are not suspending our mission! We will continue to shepherd and teach for our church, for you. We will continue to pray for you. We will continue to equip you and your family to live a full life of faith as followers of Jesus. And, we will be continue to look for ways to serve our community and reach the world for Christ.
So, let's all continue to gather – in our homes, by watching the live stream of our church services. Think of it as Calvary moving from one gathering into hundreds of homes! We encourage you to treat this as kind of a house church. Perhaps this could even be an opportunity for Each One Reach One! Consider if there are friends, family or neighbors you can invite to join you for breakfast this Sunday and to watch the service together.
Our live-streamed services will be full of joy, hope, and community –what everyone needs in times of uncertainty. Whether you're joining us alone or with your family, send a picture to or tag us on social media so we can share it with everyone!
We will be streaming on our website, Facebook Live, and Vimeo during our regular service time - Sunday at 9:30am. You can also find resources to help you and your family grow through God's Word, and request prayer online by going to calvarylife.org/live.
Is this ideal? No. We can't wait to get back to in-person, live services! But it will be exciting. Let's get creative. Gather your family during our live stream and make it fun.
Praise God for how over the past couple of months we have been able to invest in the needed resources like cameras, computers and software for live streaming and just did our first trial run last Sunday! He has been faithful to provide in unexpected ways, and we look forward in anticipation to how He will move through this time as we look to Him.
WATCH LIVE VIA:
Facebook YouTube CalvaryLife.org/live

Read more about how to Live Stream in the FAQ below.



HOW TO HELP AND FIND HELP
With the coronavirus spreading rapidly and people needing to avoid crowds and places where they could come into contact with the virus, we want to continue our movement at Calvary of being the "good neighbor" that Christ has called us to be.
First of all, we want to help you! If you are alone and need help, especially if you are part of a more at-risk group (people over 60 years old, people with compromised immune systems and individuals with serious chronic medical conditions like heart disease, diabetes and lung disease), we would love to be of service to you in any way. Please don't put yourself at risk. Let us help!
If you need someone to go buy groceries or supplies for you.

If you need help getting to the doctor's office.

If you feel scared or anxious and need someone to talk to.

If you need prayer for anything at all.

If you need something else that we could help with to help you not be exposed.
There are many local resources available for your needs in the links below. Please reply to this email or email and we will connect you with someone on our team of good neighbors to help you. This is what the church does. We care for each other and our community.
Need Help? - Sign Up HereOC Food Resources
Secondly, we want you to be a good neighbor to the people around you. Take a walk up and down your street with the printable flyer below and offer help to at-risk people in your neighborhood. Offer to be the one that buys groceries or gives a ride. Offer to pray for people that are anxious or fearful. Invite them to watch our live stream service in your home this Sunday at 9:30am. This is the time to be the light of Christ to a hurting world. If you can't meet their needs personally, let them know about our people willing to help and email

Neighborhood Service Flyer
Thirdly, we want you to sign up to be a Good Neighbor for others. We want to mobilize a group of people willing to go out and help those in need. This will include some of our staff but we'd love to get a huge list of people who can be deployed to serve our community. Please reply here or email and give us your name, mobile phone number, email and address and we will add you to the list. As we collect community needs, you will hear from Local Reach Pastor, Jonathan Smalley, with your mission orders.
We would also love to invite families and kids to write notes of cheer and encouragement to seniors in assisted living facilities in close proximity to our church who are on lockdown and not allowed to have visitors. Let's let them know that they are not forgotten! You can drop off notes to our front office at Calvary Church, Monday-Friday; 9:00am-4:00pm.
Fourthly, an important and practical way you can help is by giving to support the ministries of Calvary Church financially during this time. Our staff is still working and our global missionaries who rely on our support are still serving. You can donate online at calvarylife.org/give. You can also text 714-203-2312 with amount and keyword: General, Missions or ENF. The church office will remain open during normal hours during the week if you would like to drop off a donation or you can call Pastor Michael Welles at 714-550-2313 if you have questions or want to arrange your offering over the phone. Thank you!
Last of all, please take this seriously. We want you to be safe. We want our dearly loved older people in our church to be protected. We want all of us to be protected. So please allow us to serve you and help you in this unique moment in time. This is also a moment where people could be open to the message of the good news of Jesus. Jesus is our hope, our refuge, our strength. He is a very present help in times of trouble. He is the rock that stands as the waves of disease and fear crash down. He is why we are able to serve others in their time of need. Let's live out the gospel for the people around us.
Some additional questions are answered in the FAQ below.



STAY HOPEFUL AND PRAYERFUL
We know God is going to work through this in ways we can't even imagine now.
He will deepen your faith.
He will deepen your family's spiritual life as you worship together.
He will use the hundreds of open doors in homes streaming our services to reach people who may never have entered a church building.
Let's be people of peace and people of prayer. Pray for the leadership of our cities, our state and our county. Pray for those who are seriously impacted by this virus. Pray that people all over the world will draw closer to God. Pray for the church, that we will be united around this, instead of divided by this.
We also want to pray for those who need to be reached with the goods news. April 12 is Easter Sunday. Please be in prayer for who you will invite to hear about the hope and life we find in Jesus. Pray for this virus to not disrupt this outreach we have been planning for years. Please also pray for all of our missionaries as they continue their work around the world and deal with problems caused by this epidemic.
Ultimately, we need to balance the headlines being found in the world with the headlines that come from God's word. May these truths from Scripture help us refocus on God and turn our fears into faith:
In you, Lord my God, I put my trust. Psalm 25:1
God is our refuge and strength, a very present help in trouble. Therefore we will not fear. Psalm 46:1-2
Therefore I tell you, do not worry about your life… Can any one of you by worrying add a single hour to your life? Matthew 6:25a,27
Cast all your anxiety on him because He cares for you. 1 Peter 5:7
Click the button below for a playlist curated by our worship pastors. Our prayer is that this music brings you God's hope and peace in this season.
---



Frequently Asked Questions


How do I Live-Stream Services?
Streaming is easy. You can watch the service on your computer, phone or on your TV if you have that capability. We would love for you to gather with your family or a few friends and take part in the worship service remotely. You'll be able to watch the entire service on Facebook or Youtube (search Calvary Church of Santa Ana) or our website at calvarylife.org/live where we will also have sermon notes and resources for parents available. Read below for more specific instructions if needed.
How to Stream Calvary's Live Services on YouTube:
Thanks to an overabundance of technology, there is no shortage of ways for you to watch Calvary's Live Stream on your TV at home! To do this, you will need one of the following tools:
A SmartTV (Such as an Apple TV, Samsung Smart TV, LG TV, etc.)
A Casting Device (Such as a ChromeCast, Roku, Amazon FireStick, etc.)
If you have these tools but need assistance in setting them up, please let us know at calvarylife.org/help, and we will have someone reach out to help!
Watch Directly on your Smart TV
Turn on your Smart TV
Using your remote, scroll down and select the YouTube app
Once on the YouTube home screen, use the arrow buttons on your remote to open the search function
(This function looks like a magnifying glass)
Search "Calvary Church Santa Ana"
Select the "Calvary Church Santa Ana" Channel
(This one is a circular icon with the Calvary Logo)
The first video will be the most recent Sunday LiveStream
Select this and enjoy the service!

Watch from your Smartphone Using a Casting Device
Before getting started, make sure the YouTube app is downloaded onto your phone or tablet, and you are signed into your account. You can do this by going into your device's app store, searching YouTube, and clicking download. The YouTube app is free.
Once YouTube is downloaded:
Make sure your TV is on
Open Youtube on your phone, laptop, or tablet
Press the Cast icon in the top right corner
(This icon looks like a square with three half-circles in the corner)
Choose your device on the grey menu that pops up
Select the video you want to watch and hit play!
The video should automatically start playing on your big screen, and you can control things like volume, play, pause, rewind, etc. from either your phone or your remote control.
Who is a High-Risk Group?
Current evidence indicates that the risk of severe illness increases with age. The median age of reported cases has been 59 years and the median age of critically ill cases has been 66 years. People with underlying medical problems, including cardiovascular disease, diabetes, cancer, chronic lung disease, and immunosuppression, are also likely at higher risk.
If you are in these high-risk groups, please self-evaluate and consider staying home.And of course stay away from public gatherings if you have traveled within the past 14 days to an area associated with very high COVID-19 risk. According to the Center for Disease Control, there is no evidence that children are more susceptible.
For more information, including details about health department recommendations, please visit www.cdc.gov/coronavirus/2019-nCoV and www.ochealthinfo.com/novelcoronavirus. You can also call the HCA's Health Referral Line at (800) 564-8448.
What Guidelines Should I Follow to Stay Healthy and Help Others?
The best way to help stop the spread of the virus is to follow these common-sense guidelines:
STAY CLEAN.Wash your hands often with soap and water for at least 20 seconds. Use the elbow bump rather than handshake as a greeting. If you sneeze or cough, please use a tissue or handkerchief.

STAY HOME if sick, except to get medical care.
STAY CALM. Constantly checking the headlines and worrying about getting sick can have the unintended effect of robbing you of sleep and driving up your stress. That makes you more vulnerable to illness, not to mention fear-driven hysteria. So as I said last week, let go of "anticipatory anxiety".
STAY CONNECTED to Calvary. We encourage you, if you haven't already, subscribe to our weekly pastoral updates here. This situation is changing rapidly. We will update you if we hear of any new recommendations from the authorities.
For more information, including details about health department recommendations, please visit www.cdc.gov/coronavirus/2019-nCoV and www.ochealthinfo.com/novelcoronavirus. You can also call the HCA's Health Referral Line at (800) 564-8448.
Will the Church Office Be Open?
We have decided to close the church office during the week to drop-in guests. However, we encourage you to call us at 714-973-4800 or email us at . Most of our staff is working remotely and available to respond.
Like so many of you, we are adjusting to this situation each day and further changes come quickly. We will do everything we can to keep you informed of any changes to this information.