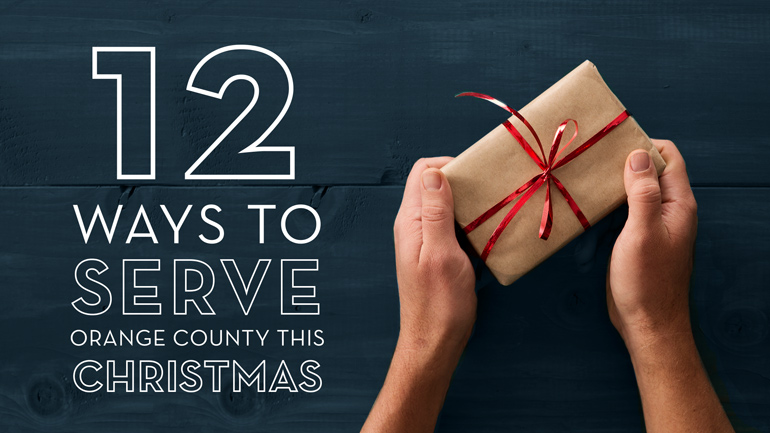 Read below to discover 12 different opportunities to partner with local ministries doing good and blessing those in need in Jesus' name this Christmas season.
1. Operation Christmas Child: Pack a Shoebox Gift*
Dropoff: Nov. 5, 12, 19, 26 • samaritanspurse.org
Operation Christmas Child is a ministry of Samaritan's Purse and works with local churches and ministry partners to deliver donated "shoebox" gifts around the world and to share the gospel.
Pack a shoebox gift and drop it off at the Operation Christmas Child table in the lobby after worship services on Sundays (9am-noon) in November. From November-December 14, shoeboxes can also be dropped off at the Southern California Processing Warehouse at 4200 Bonita Place, Fullerton, CA, 92835.
2. Serve with Lake Dianne Apartments' Cares Team*
November & December Events • Lake Dianne Apartments
Over the past four years, we've partnered with Lake Dianne apartments (across the street from Calvary) to unite residents together and create community through events. Calvary members Ben and Sarah Harris are the on-site team at Lake Dianne and need volunteers at the November and December events to help with setting up tables and chairs, cooking, wrapping presents, and fun activities for kids. To learn more or sign up to volunteer, email email Ben and Sarah Harris at
3. Serve at the OC Amory Cold Weather Shelter
Mornings/Evenings in December • mercyhouse.net
Mercy House's OC Armory Emergency Shelter hosts 200+ homeless men, women and families nightly in Santa Ana. Volunteers (must be age 13+) are needed in the evenings from 5:30 - 8:30 pm and mornings between 5:00 - 7:00 am to serve meals at the Armory (612 E. Warner, Santa Ana, 92707).
For more information or to volunteer, contact Alyssa at
4. Show Compassion to a Refugee Child
Opportunities in December • vorservices.org
Voice of the Refugees is a faith-based organization in Anaheim that serves the local refugee population from places like Iraq, Syria, and Afghanistan. Their goal is to care for 150 refugee families in Orange County this Christmas season. You can bring gifts to a family or help at the annual Christmas party.
For info or to volunteer, contact Ryan at
5. Greet or Host at Calvary Christmas Events
December 1, 2, 9, 16, 23, 24, 31 • calvarylife.org
We have more visitors attend Calvary Church during the Christmas season than any other time during the year. We need friendly, welcoming volunteers to greet people, distribute programs, and help visitors find their way around campus.
To volunteer, contact our Connections Pastor, Robert Carter, at
6. Wrap Toys for Low-Income OC Students
December 4, 5, 6, 7, 12, 13 • gchope.org
Giving Children Hope in Buena Park is hosting a week of Christmas toy wrapping parties to give gifts to low-income and at-risk elementary students in the "We Got Your Back" program. Time slots to serve are available through the second and third weeks of December.
To volunteer or learn more, email
7. Bring Joy to Senior Adults in Assisted Living*
Saturday, December 8 • calvarylife.org/local
Join the Calvary Retirement Ministry team to provide care and encouragement to senior adults living with memory loss. We will gather on December 8 from 9:30-11:00am at The Groves of Tustin Retirement Community (1262 Bryan Ave. Tustin 92780) to sing Christmas carols, make Christmas crafts, and enjoy conversation.
For info or to volunteer, contact Bob at
8. Serve an OC Foster Child through Olive Crest
Gift Deadline: December 14 • olivecrest.org
Join the "Be the Miracle" campaign by granting a wish or donating to a foster child. Your donation reminds kids they are valued, remembered, and special. Volunteers are needed from December 1 - December 14 from 9:00 am - 6:00 pm to help sort gifts.
Visit olivecrest.org and click "Be the Miracle" to find wishlists. Drop off at 2130 E. 4th St. Ste. 200, Santa Ana.
Contact Doug Brown at to volunteer.
9. KidWorks Christmas Toy Drive & Distribution*
Deadline: December 14 • kidworksoc.org
KidWorks is a non-profit partner of Calvary Church that serves families in one of the most challenging neighborhoods in our city. Encourage the kids of the Townsend Street neighborhood by helping supply Christmas gifts to those in need.
Drop off new, unwrapped toys for kids ages 5-16 to KidWorks at 1902 W. Chestnust Ave, Santa Ana, CA 92703, Monday-Friday, 9:00am-5:00pm.
For more info, visit kidworksoc.org/christmas-store
10. Setup and Serve at the Calvary Missions Dinner
December 15 • calvarylife.org/reach
Every December we invite our in-town missionary partners and missions volunteers to a Christmas dinner to thank them for their service. We need volunteers to help us set up tables and serve during the dinner on Saturday, December 14.
For info or to volunteer, contact Jill at
11. Encourage a Rescued Victim of Human Trafficking
Deadline: December 17 • ochumantrafficking.org
Thanks to the OC Human Trafficking Task Force and local enforcement, there are currently 50+ survivors of human trafficking in OC being cared for this Christmas. To encourage the healing process, individuals or LifeGroups can provide holiday gifts for victims living in emergency and transitional housing programs (price range is $50-$75). You will receive a first name and wish list for each person you adopt.
To sign up, contact
12. Help Mothers Facing Unexpected Pregnancies
Deadline: December 22 • obria.org
Obria (formerly Birth Choice) is a pro-life licensed medical center offering low cost healthcare to mothers facing unplanned pregnancies. Obria needs donations of newborn size diapers/clothes and prenatal vitamins. Donations can be dropped off to the Calvary Church office Mondays-Fridays from 9:00am-3:00pm until December 21st.
For more info, contact Matt at
*serving opportunities suitable for kids, with adult supervision