Mother's Day at Calvary - Please Join Us!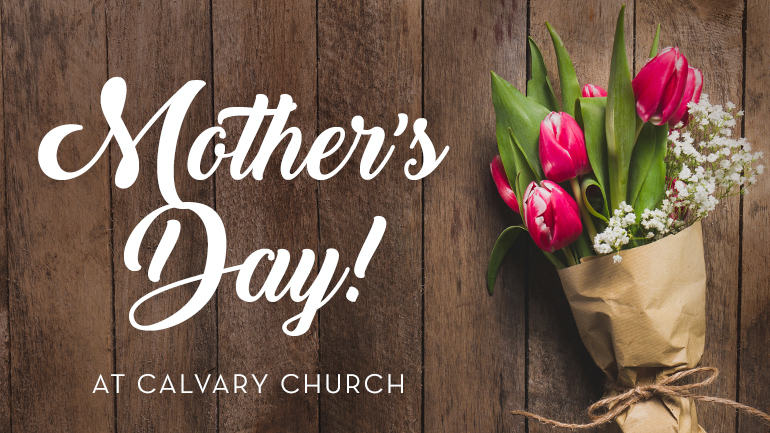 Hello Calvary Family,
When I was a child my mother used to bake these wonderful chocolate cakes. She would make them the day before a birthday or some celebration. Being the sneaky child that I was I would convince my dad that we should steal a piece of the chocolate cake without my mom noticing. We would remove a very thin slice of the cake and awkwardly push the pieces together. A habit which I have definitely passed on to my child.
My mom would always immediately notice and being the gracious mom she was, she would still let me have a slice of cake. Being a mom is like that: making something beautiful; having your children destroy it; and then with a compassionate heart, still letting them enjoy some cake.
This Sunday is Mother's Day and for most, it is a day of celebration. A day to buy cards and flowers. For others, it is a painful reminder of a reality you wish wasn't so. We understand that Mother's Day is an opportunity to celebrate, to mourn possibilities, and to come together as a Church Family and celebrate the gift of women and Motherhood.
We hope that you can join us at 9:00am or 11:00am at Calvary for an encouraging morning focused on the Lord. We will be pausing in our series through the book of Mark to learn from the story of three women in Exodus 2—all reflecting aspects of God's character and each vitally instrumental in carrying out God's purposes for His chosen people. So, please join us as we celebrate women and the various ways they teach us about God.
- Doug Brown
High School Pastor


P.S. We will also have a Photo Spot set up outside on the Patio. Stop by to take a picture after the service and share it on Facebook or Instragram using the hashtag #calvarylife



Calvary Weekly Email
Sign up to receive the weekly Calvary email of the Pastor's Blog to get biblical insights and ministry updates on life at Calvary as we follow Jesus together.