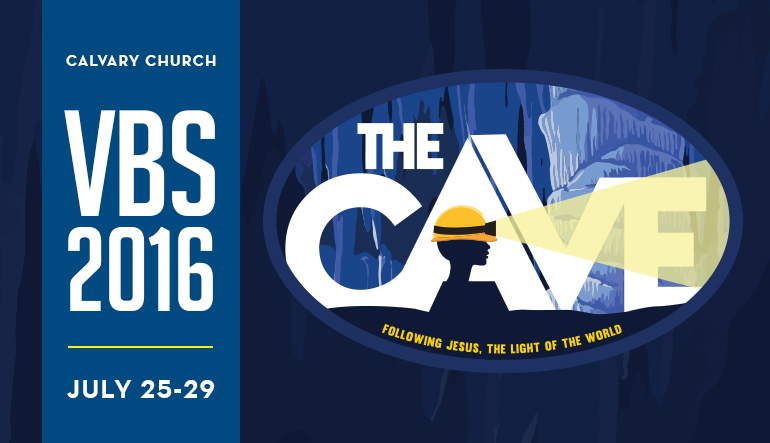 THE CAVE VBS
Monday, July 25 - Friday, July 29, 2016
Get your kids ready for over the top underground adventure!
Join us for daily adventures in THE CAVE July 25-29 from 9:00 am – 12:30 pm. Calvary's VBS is open to kids entering grades 1 through 6 (in the fall of 2016). And best of all, it's all FREE!
Be sure to join us Sunday, July 31, 2016 for the VBS ONE SERVICE at 10:00am!
Register Your Kids Register as a Volunteer
VBS Photos + Videos

Save the Date!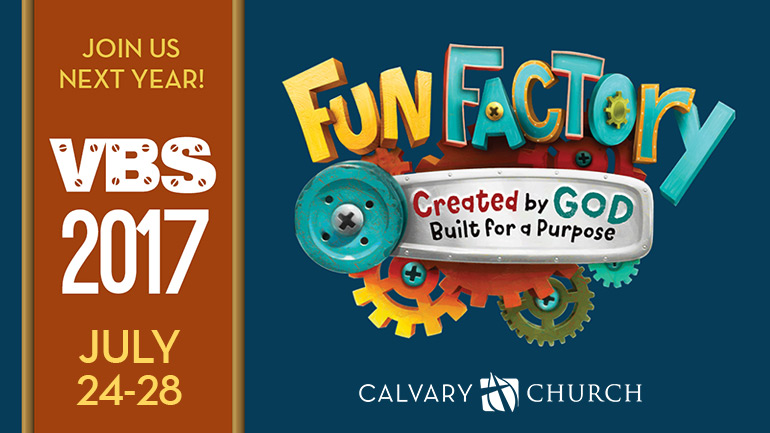 Spark Imagination With Faith-Building Fun!
Imagine a world where curious kids become hands-on inventors who discover they're lovingly crafted by God. Fun Factory Vacation Bible School will be buzzing with excitement!
Mark your calendar now and plan on joining us again July 24-28 for VBS 2017! Registration will open June 1, 2017
Discover More About VBS:
· Find out what to expect - Daily Schedule
· Keep VBS FREE for all - Donate Snacks + Supplies
· Help make a difference - Penny Project
· Nursery-K for volunteers' kids - Early Childhood
· VBS for kids with special needs - BRIDGE
· Find answers to common questions - VBS FAQ
· Join us Sunday, July 31 - VBS One Service