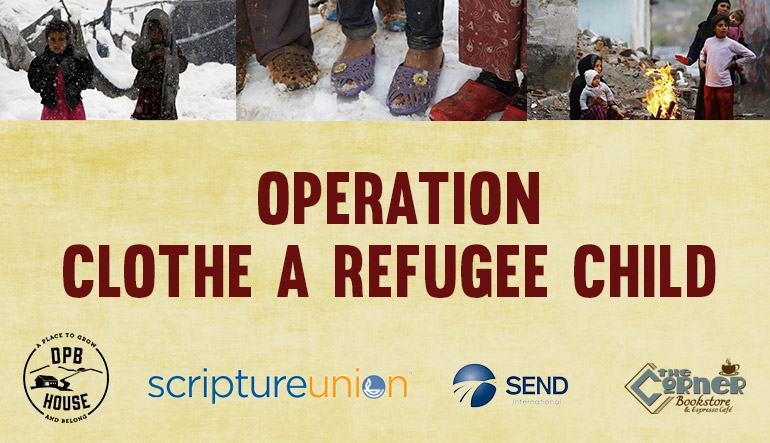 More than 50% of Syrian refugees are children who've lost everything. Now the winter is here and children are literally freezing. They and their families are in desperate need of warm and weather appropriate clothing, as well as food. It's our chance to show God's love and care for those in great need!
1. Purchase the "Item of the Week" and 100% of the profit goes to Operation Clothe a Refugee Child.
2. Drop a donation in one of the buckets at the bookstore.
PRAY for all who flee war and persecution and our brothers and sisters in Christ. Pray for miracles of protection and provision for those who remain in danger.
SUPPORT our missionaries in Europe who are experiencing the Syrian refugee crisis up close and want to use this as an opportunity to share the Gospel by serving those in need. You can help the Spradleys and Meekers with SEND International show God's love and care for these refugee children by purchasing the Bookstore's "Item of the Week" and 100% of proceeds will go to the cause.
Give to Calvary's Global Missions Online
Reach Global Update on the Refugee Crisis