Calvary to Cuba Update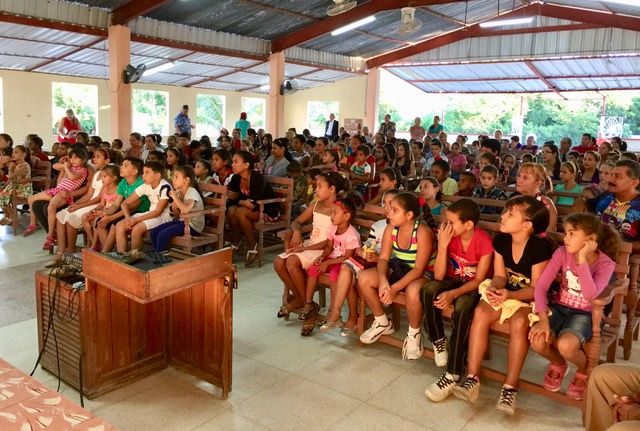 The following is an update from Calvary Missionary, Don Nellis, who helped lead our Guest Helper's Team on a short-term trip to Cuba.
Thank you for praying for us on our recent trip to Cuba! We thank you because in response to your prayers the Lord truly blessed us in innumerable ways!
Our time in this island republic began with Salvador Bahena and me arriving in Holguin on November 8th. We immediately went over plans with our host, Pastor Juan Rodriguez, to start a round of visits to each of the churches Shad Arnold and I had visited 6 months ago. Our purpose was two-fold: 1) see the remodeling progress of each house-church project and leave additional funds for completion, and 2) introduce the extensive 2+ years Bible course, giving each pastor a complete manual along with a thumb drive containing the complete course plus a library of tools (Bible dictionary, concordance, commentaries, maps, Homiletics, Hermeneutics, Bible study methods, etc.). We also gave each of them an excellent Study Bible. The pastors gave us their contact information along with the number of students (future leaders) that would be starting the Bible course. The number of students totaled close to 145!
We spoke to the pastors about our returning in six months to see their house-church remodeling projects and check on their progress in the Bible course. Only the Lord knows how extensive this ministry combo might become in eastern Cuba among the fledgling church plants!
Salvador and I met the rest of the Guest Helpers (including Janie!) of 27 (from California, Minnesota and Texas) which arrived in Holguin on November 13th. The majority of them were in their 60's and 70's but there were a few younger folks as well. It was great to have the energy and strength of the younger coupled with the wisdom and experience of the older! The Lord molded us into one mind and heart as we worked on construction, electrical, plumbing, carpentry projects and evangelizing the neighborhoods. Since Hurricane Matthew had done a number on the eastern city of Baracoa where we were originally scheduled, we had to adapt to a sudden change of venue. Our host, Pastor Juan, arranged things so we could work on projects in his church in Holguin and surrounding towns. Not having experienced the destruction of the hurricane, Holguin was a place we could obtain materials a little easier (most building materials were difficult to find).
The first morning on these trips is usually chaotic as each team gets its bearing as to what to do and getting materials. This time was no exception but surprisingly things took shape rapidly! Each day began with breakfast in the hotel followed by a bus ride over to Pastor Juan's church where we had daily devotions led by different Spanish speakers. All the devotionals spoke to our hearts as God's Word and testimonies were shared. Cuban coffee was prepared by the cooks for our enjoyment throughout the week. And they prepared delicious lunches! The poverty of the country was evident on every turn. The team supplied funds for the cooks to purchase food and prepare it.
The Guest Helpers were made up of two teams: construction and ministry. While the construction team focused on building things the ministry team went to homes to share the Gospel and pray with people. Both teams demonstrated Christ's love through deed and word! The building team built walls, dug foundations, poured footings. The carpentry team built beautiful pulpits and lecterns for various churches, shelves for our host church, repair chairs, etc. Our electric team repaired and rewired the electrical system of our host church in Holguin so when a switch was turned on there was light! The plumbers repaired toilets and other plumbing details. The ministry team led a huge children's Bible teaching event where the Gospel was presented. They also visited neighborhoods sharing the Good News of Jesus Christ and also prayed for so many who were discouraged. The week culminated with a God honoring evangelistic service on Friday night where our own Salvador Bahena preached!
We desire to return to Cuba in six months to do followup in several areas. Please pray that the doors remain open for the preaching of the Word in this country. We know that the Lord opens and shuts doors according to His will and echo what the Apostle Paul said in his letter to the believers of Colosse in Colossians 4:3 praying also for us, that God would open to us a door for the word, to speak the mystery of Christ, for which I am also in chains. When the Lord opens a door there is no power on earth that can close it! Amen!
Thank you for your love, your support, and your intercession for us which makes it possible for us to dedicate our lives to serving the Lord. We are are accountable to Him and to you!