Looking to the Next Generation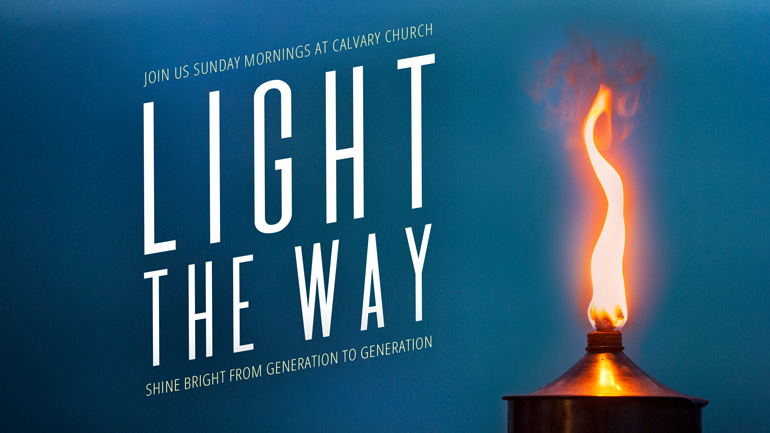 Dear Calvary Family,
I had a Bar Mitzvah when I was 13. It was the greatest Bar Mitzvah that you've ever seen. It was a couple years of Hebrew school, studying my assigned portion from the Torah and really, my first time ever to "take the pulpit." It is a coming of age story when I, according to Jewish thought, became accountable for my sins. Bar Mitzvah literally means "son of the commandment."
There are a lot of things I remember from that day. Family, friends, songs like Hava Nagila (yes, we really do sing that!), dancing like David danced and even a chopped liver statue of me! OK, maybe not the chopped liver statue. Looking back on that day one of the most significant memories I have is something we call, "L'Dor V'Dor." It means from Generation to Generation. There was a moment in the service when my grandfather held the Torah, passed it down to my father who then passed it down to me. It is the idea of passing down your faith from one generation to the next.
I can't tell you how significant this is for me as our oldest son is now taking Hebrew in preparation for his Bar Mitzvah next year. I now have someone to pass the Torah to!
Essentially this is what we will be talking about this Sunday as we continue in our LIGHT THE WAY series, what it looks like to pass down our faith to the next generation. As a parent, I want my children to live a greater life than I will live. I have dreams for them in their relationships with people and their relationship with God. One of the greatest responsibilities we have in this life is to pass on the torch of a vibrant faith in Jesus Christ to the next generation. Unfortunately, the message of the world encourages us to better ourselves and live for our own story. We'll be focusing on the character of Elijah who made an incredible investment in Elisha and it is evidenced by what Elisha went on to do through God's power.
Consider your own life and the people you are pouring into who are part of the next generation. How are you living your life to make the greatest investment in their life? Our kids and the people we pour ourselves into are probably not going to perform miracles like Elisha, but there is no limit to what they might accomplish for the kingdom of God. Let's gather together this Sunday morning and see what the Lord will do!
Matt Davis
Marriage & Family Pastor



Calvary Weekly Email
Sign up to receive the weekly Calvary email of the Pastor's Blog to get biblical insights and ministry updates on life at Calvary as we follow Jesus together.