Our leadership would like to hear from you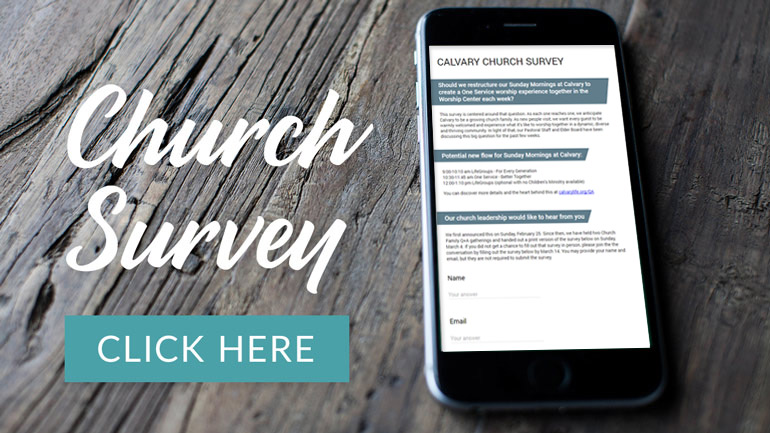 Dear Calvary Family,
Our church leadership would like to hear from you on an important conversation on Calvary's future, centered around this question: Should we restructure our Sunday Mornings at Calvary to create a One Service worship experience together in the Worship Center each week?
Please join us now in praying for God's guidance in this as we pursue the vision to be a church family that is better together, being changed by the Gospel to love like Jesus across all cultures and generations. Please pray the 10:02 prayer from Luke 10:2 with us every day at 10:02am. Pray that God would use us to see many people reached with the Good News of Jesus. Please pray for God to keep us unified in Him and in His will, as Jesus prayed for His followers in John 17:20-26. You can discover more details and the heart behind all of this at calvarylife.org/QA
Thank you to those of you who came and participated in one of the two Church Family Q+A events. Thank you also to many who filled out a printed survey about this last Sunday. If you did not get a chance to fill out that survey in person, please join the the conversation by filling out the survey only here.
If you would like to fill out this survey in person, print copies will be available at the Reception Desk upstairs in the Worship Center offices. You can also send an email to to share your input.
May the Lord bless you and keep you,

Eric Wakeling
Senior Pastor






Calvary Weekly Email
Sign up to receive the weekly Calvary email of the Pastor's Blog to get biblical insights and ministry updates on life at Calvary as we follow Jesus together.