Financial Update Meeting
Sunday, June 4 at 12:30 pm
Calvary's leadership invites you to a Financial Update Meeting Sunday, June 4 at 12:30 in the Choir Room. Come see how the finances and resources of Calvary are being used for ministry here in Orange County and around the world.
For those who cannot make it to the meeting, here are a few financial updates:
Over the last several years we have been able to provide $5 million of improvements to our campus due to the amazing generosity of so many. We are now within $60,000 of paying for all of it! Will you help us finish the last 1% by our fiscal year-end in June with a special gift to the Generation fund? Thank you for your generosity.
We strive to be good stewards of all God provides for Calvary's local and global ministry. In addition to our annual audit process, we are now also joining the ECFA (Evangelical Council of Financial Accountability) to follow their best practices for financial management of ministries. Read below for more details of how Calvary is making a difference locally and globally.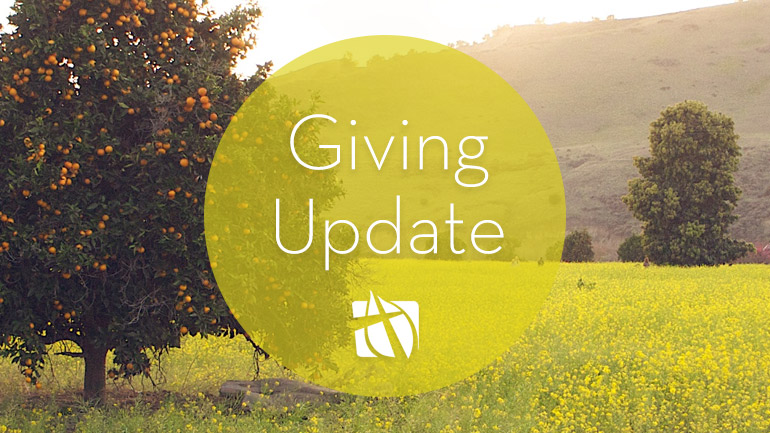 Your Giving is Making a Difference
Thank you to all who have given faithfully and generously of your time, resources, and finances. We are excited about the plans we have to share the love of Christ as we look ahead to 2017. Here are a few highlights of ways your generosity is making a difference in people's lives through Calvary Church:
At Calvary:
· Care Ministries offering counseling, recovery and support through difficult times
· Multiplying discipleship relationships through Alpha and Following Jesus courses
· Equipping and restoring marriages and families through biblical principles
· Reaching the generations to come, by building the new Student Underground
In Our Community:
· Caring for women in crisis pregnancies with Obria Medical Clinics
· Providing resources for foster children who are a part of Safe Families
· Helping the homeless through Orange County Rescue Mission
· Giving gifts to children who have incarcerated parents with Angel Tree
Around the World:
· Supporting 90+ missionary families sharing Christ all over the world
· Translating the Bible worldwide until all have heard the Good News
· Clothing Syrian refugee children in Europe this winter
· Giving resources to orphans affected by HIV/AIDS in Africa
· Building homes for families in need in Mexico
Please pray and consider how God has equipped you to extend his blessings to others by furthering the work of ministry locally and globally.
Click Here to Give Online Today
Learn about other Ways to Give
This Year at Calvary | Annual Report
This report provides a look into how the finances and resources of Calvary Church are being used for ministry here in Orange County and around the world. Thank you to those who give so faithfully and generously. We appreciate your continued support and look forward to what God will do in and through Calvary as a result of your giving.

Thank you to those who give so faithfully and generously to support the ministries of Calvary. We now have several options available for simple and secure digital giving:
Online: By electronic check or credit card at calvarylife.org/give
Mobile App: Search "SecureGive" in App/Google Play Store and follow prompts.
Text: 888-280-4456 with amount and keyword: General, Missions, ENF, GP or Camp. Consider saving the number in your contacts for future use.
Learn About Other Ways to Give
Learn More
Please contact us at or 714-973-4800 for more information on any of these areas of stewardship.