Limited Re-Gathering Plan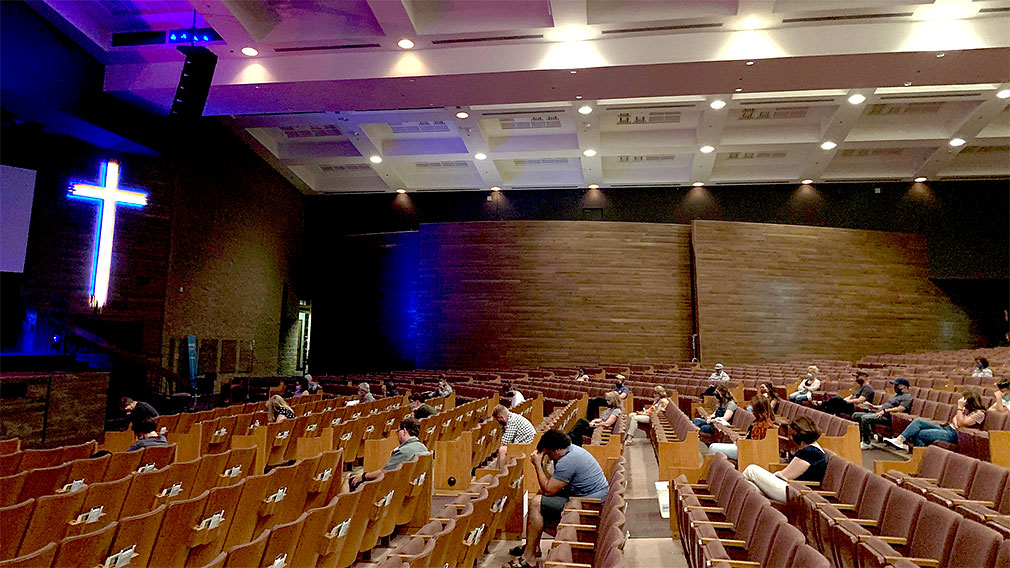 Dear Church Family,

The photo above is of our church staff, who gathered this afternoon to seek the Lord in prayer and begin to prepare our ministry spaces for some limited in-person re-gathering. Even from 6' apart and with masks on, it was so good to see each other in the same room and to pray together for our church and our community.

I miss seeing all of you on Sunday mornings! March 8th was our last in-person worship service and that was Daylight Savings Time Change Sunday with a slight rainfall so I missed most of you anyways! Haha - just playing!

I'm excited to start the process of moving toward gathering together again. Here's why I'm looking forward to that and also why we've been taking every precaution with your safety - BECAUSE I LOVE YOU!

Therefore, in an effort to welcome our church family on campus and continue following the guidance we've been given by our state and local government, we are planning to welcome 100 people who pre-register for reserved seats and then join us in-person for our LiveStream Worship Service on Sunday, July 19. This will include about 25 volunteers and staff that are helping make the service happen with safety, excellence and passion for the Lord.

Registration will be required and will open on July 12 at 1:00pm
REGISTER ONLINE HERE REGISTER USING OUR APP

Our services in Spanish will be meeting in a similar way in the Chapel. You can find out more on that in the days ahead at calvarylife.org/hispano.


---


Because we care about you and our church family, please understand the following before making your reservation:
Our LiveStream online worship services and the environment of each of our venues will feel different than other services you have attended in the past. Thank you for keeping a spirit of grace and flexibility as you arrive back to campus and experience these changes.

Certain procedures have been established that aid in protecting each person in the room and providing for the best LiveStream experience. Those present in the audience will need to follow those procedures.

Plan to arrive early and park in the north lot on Wellington Ave. Enter at the patio entrance near the green umbrella for initial check-in and screening.

Check-in and health screening will begin at 9:00am. All those with reserved seating should be in their seats by 9:20am for a special in-person, pre-LiveStream welcome with one of our pastoral staff. If you are not seated at 9:20am you may forfeit your seat for someone on the waiting list.

Temperatures will be taken to confirm health before entry. Any person with a temperature above 100.3 will not be allowed to enter, nor their family with them.

Ushers will direct you to your seats to provide for adequate spacing. Family units will be seated together.

Masks and 6' social spacing will be required for adults and children over two when inside the building. If you do not have a mask, one will be provided for you. Masks should stay on when you are walking around inside the building and singing. Masks can be removed during the service when you are listening (like when seated at a table in a restaurant.)

Hand sanitizer will be available throughout the lobby. Its use is highly encouraged upon entering and exiting the building.

Children who cannot sit quietly through the service should attend at a later date. No children's program is available at this time.

Restrooms will be available. Please wear your masks and do not congregate in the restrooms. Water fountains and coffee stations will not be available.

Sermon outlines will not be provided at this time. You can print one and bring it with you. They can be found in the weekly email or online at calvarylife.org/resources.

All printed materials will be removed from seat racks. Please bring your own Bible and pen. Offering envelopes (only needed for cash donations) will be available by each door as you enter the auditorium.

Offering can be dropped in a secure box by each door at the back of the Worship Center auditorium. You may also give securely online at calvarylife.org/give

Communion will be provided on observed Sundays in self-service juice/bread containers.

If you or someone in your family is diagnosed with COVID-19 after being on campus, please email us at

I know this sounds like a lot! We appreciate your understanding as we work through all of these steps.

I encourage you to continue watching from home if the LiveStream is working for you. I also encourage you to stay home if you are in an at-risk or vulnerable group.

We will continue to monitor the situation and the guidelines from the state and make changes to these plans accordingly.


May the Lord bless you and keep you,
Eric Wakeling