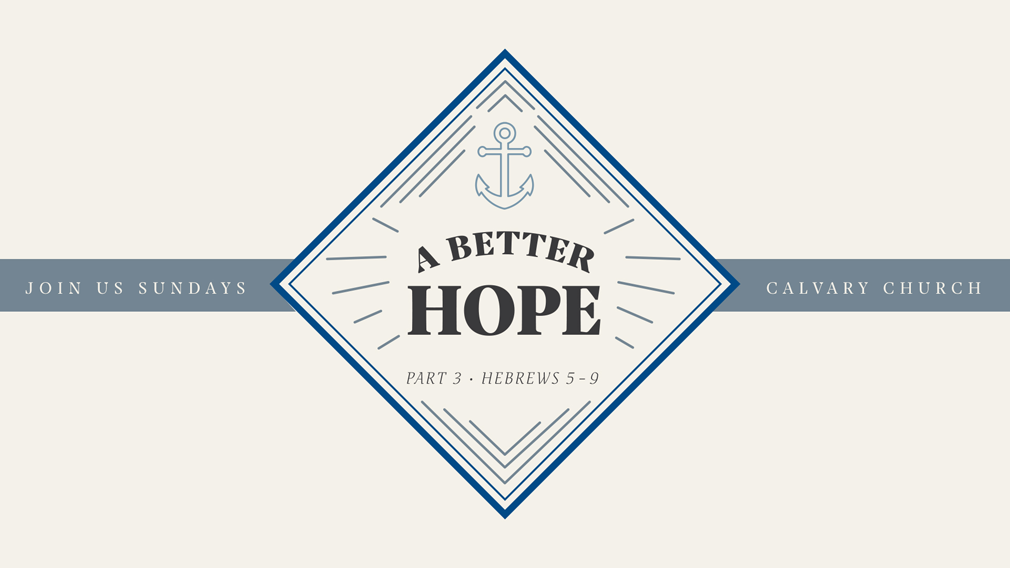 Every Sunday, from 08/09/2020 to 08/16/2020
,
9:30 AM - 10:45 AM

All of us are searching for hope in the midst of a world filled with tension, stress, fear, and conflict. Hebrews 6:19 reminds us that our hope in Jesus is the anchor for our soul.
We often try to fix ourselves, build our own hope, provide our own answers to life's biggest questions and we end up drifting, lost and disillusioned.
As we look into Hebrews 5-9, we will see how we are anchored into the deep solid rock that shows us how Jesus is the better high priest, the better promise, the better ministry, the better hope.

Find ways to watch, sermon notes, kids' activities, and more for each Sunday morning at calvarylife.org/live
---
Join Us For Outdoor On-Campus Worship
In an effort to welcome our church family on campus and continue following the guidance we've been given by our state and local government, we are welcoming people to pre-register for reserved seats and join us for an outdoor on-campus worship service each Sunday in the Courtyard - NEW TIME AT 7:00PM.


REGISTRATION WILL BE REQUIRED AND WILL OPEN EACH SUNDAY AT 1:00PM FOR THE FOLLOW WEEK'S SERVICE


Please check back on the Church Center App at that time to reserve your seat. If the event is full, you can enter your name to be on the waitlist. If guidelines are updated and we are able to add more people, you will be notified.
REGISTER ONLINE HERE DOWNLOAD APP TO REGISTER

Our services in Spanish will be meeting in a similar way in the Chapel. You can find out more on that in the days ahead at calvarylife.org/hispano.