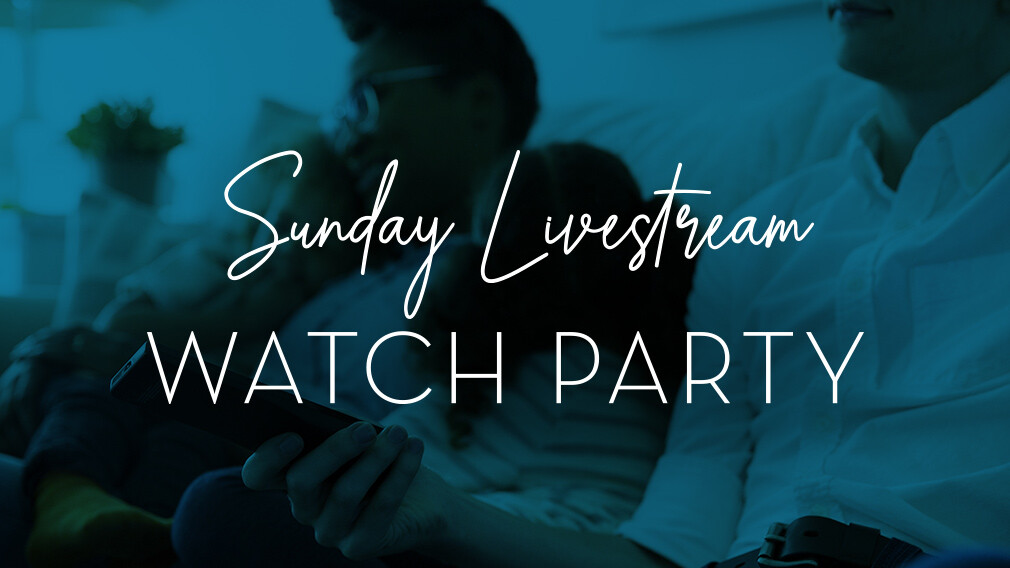 Every Sunday
,
9:00 AM - 10:45 AM


LET'S WATCH TOGETHER!
We have all had that holy longing to be together with our brothers and sisters in Christ. Hosting a Watch Party is a great way to begin worshiping in-person with one another and feel that sense of family again!

Here's how it works:


1. Groups of less than 30 people meet outdoors to watch and participate in the live Sunday Worship Service. Some homes could have room for less people based on their ability to social distance.

2. People sign up to host a Watch Party. Inviting your LifeGroup, extended family, friends, or neighbors could be a great way to form a group for a Watch Party.

3. People can arrive between 9:00-9:15am and even bring their own chair if you are meeting in the backyard. The service starts at 9:30am. We will send you an Order of Service that shows the times of everything in the service if you want to have your own in-person worship music (if you have someone able to lead) or you can enjoy the livestream worship through singing.

4. Typically the service ends around 10:35/10:45am and you can have a time of fellowship or small group discussion following the service.
SIGN UP TO BE A WATCH PARTY HOST

ENCOURAGEMENTS FOR GATHERINGS
We are so thrilled to be able to gather together again. Please keep these things in mind as we do.
We care deeply for you, your health and the health of our other church family. When we gather again, we ask that you respect and follow the guidelines we have established.

We honor the guidelines our government has provided to gather again. These guidelines are not arbitrary but have been thoughtfully considered and adapted for our context.

We want to maintain a good reputation among the unbelieving community around Calvary Church, honor God and our government with how we gather together.

We want to create an experience of connection and growth when we gather.
So, before gathering together...
Assess your own health.

Have you tested positive for COVID-19, have interacted recently with someone who has tested positive or is waiting to hear results of a COVID-19 test? If this is true, contact your health provider to discuss whether or not you need to wait and isolate. Please remain home until released to gather again with others.

How do you feel? Do you have any symptoms related to COVID-19: fever, breathing issues, cough, sore throat, recent loss of taste or smell, nausea, diarrhea or other? If you have any of these symptoms, contact your health provider and remain home until released to gather again with others.

Wash your hands with soap and water or sanitizer.

Pack a face mask to bring with you.

Eat before you arrive and bring your own personal water bottle/beverage. No food or drink sharing will be allowed. Consider bringing your own chair if meeting outside.
When gathering together...
Wash your hands with soap and water or sanitizer upon arrival.

Wear your face mask properly by covering both your nose and your mouth.

Follow the instructions of the pastor or staff person leading the gathering. These are the ones responsible for those gathering together and have the most updated information and guidelines.

Maintain a strict distance of six feet between you and others. This means no shaking hands or hugs.
After gathering together...
Wash your hands with soap and water or sanitizer.

Wash your face mask when you get home so it is ready for its next use.

Continue connecting online or by phone with those who could not gather in person.

Communicate with the staff person or pastor who led your gathering if you become sick with COVID-19 after gathering with others. We will want to follow up with you and connect with those who gathered together with you.
Thank you for joining with us to honor the Lord and care for one another by following these guidelines. We are excited to gather together again!
Questions?
Contact our Pastor of LifeGroups & Connections, Robert Carter, at or 714-550-2332.