Leadership
Back to Staff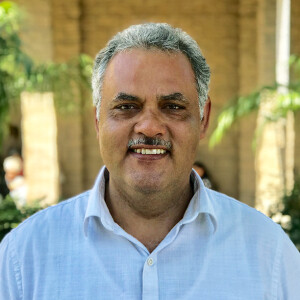 Jesus Victor
Jesus is number 10 of 12 brothers and sisters. For years his mother and siblings faithfully shared the Word of God with him and prayed for his salvation, never giving up. One day he was invited by some of his family to a Sunday service at El Buen Pastor Church in Santa Ana. There, at age 25, he accepted Christ as his Lord and Savior. He clearly saw what God had done in his father's life which also encouraged him to trust Christ.
Jesus started attending Manantiales de Vida, the original Hispanic congregation that met on Calvary's campus in 1996. He was baptized here in 1997 and married his wife, Ines, at Calvary in 1998. They have a son and a daughter, Israel (22) and Ashley (20) and are grateful for the opportunity to have raised their kids here, their home church.
Jesus was part of Saturday's Men's breakfast ministry from 2000 - 2017. He and Ines have been serving with their kids in Children's Ministries with the 3-year-olds for 10 years, and they serve together as support leaders at Ignite High School Hispanic Ministry. Jesus has worked in the hospitality and the food service industry for 32 years, 20 of them as an Executive Chef for several hotel brands. Some of his hobbies include cooking, traveling, and spending time with close friends and family.
TERM: July 2021-June 2024