Leadership
Back to Staff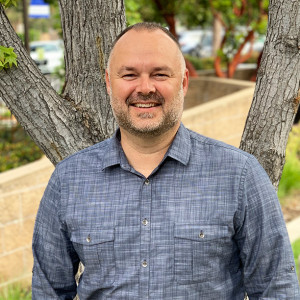 Brandon Elrod
Brandon Elrod came to Calvary Church in 1985. He gave his life to the Lord at age 9 under the care and guidance of his mother, as she re-enforced that it was not simply a mental choice he was making, but a sincere act of repentance. He continued to grow and mature as a believer, and began to serve in the Children's Ministry, Junior High, and eventually High School at Calvary Church over the next twenty years. It was at age 29 that he began to experience the presence and power of God in a way that awakened and inspired him like nothing before.
It was during this season that the Lord showed Brandon that through all his Christian performance, study, and duty, he had actually become a Pharisee. He had become arrogant and prideful in the knowledge he had accumulated and the image he had crafted as a Christian, going so far as to hold others to standards that the Lord did not require. God was gracious to Brandon, and revealed this pride and invited Brandon to repent and leave it all behind, and venture into new and exciting areas of growth as a Christian.
Since then, Brandon has experienced great adventure with God, and has gone on to write several books on Christian living; he has traveled to Kenya numerous times to mentor church leaders; and he has taught several series at Calvary: Fight Club, Heroes & Heroines, Emptiness to Fullness, and The Story of the Early Church.
Brandon loves that he is known as "Desiree's husband" around campus by those who his wife has ministered to. They hold a very shared perspective of ministry and love the opportunities when they can minister together. They first met in Calvary's college group, and they have three children that have grown up at and currently attend Calvary Church. They will celebrate 25 years of marriage next March.
Brandon is a Certified Arborist and is deeply passionate about environmental stewardship, and owns a service company in Santa Ana. He holds a Master's degree in Biblical Studies and a Doctorate in Church History, and has a deep love of mentoring. Brandon enjoys riding motorcycles and is about halfway toward his goal of visiting every state on his motorcycle.