Join us for a special Sunday at Calvary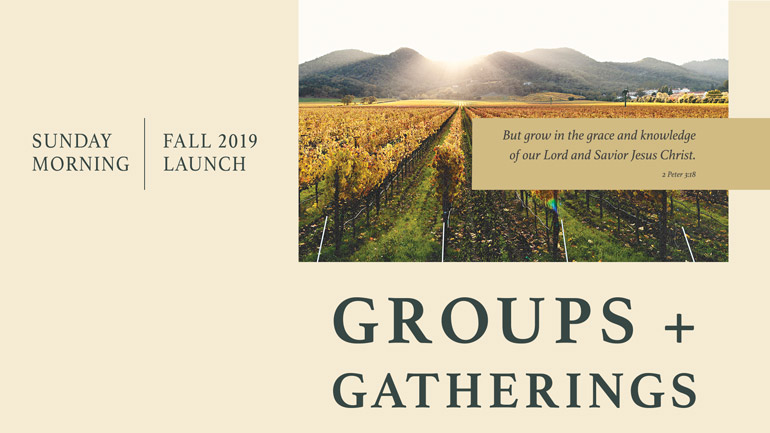 Dear Calvary Family,
Don't miss out on what's happening this Sunday at Calvary Church! We're honored to have Tim Celek, founding pastor of Calvary Church Newport Mesa (Now known as The Crossing Church), with us to share a timely and important message with our church family in the service at 9:30 am.
And, plan to stay after the service for the Fall Launch of our Groups and Gatherings. Come join us at 11:00 am by the Field, grab a bite to eat, and explore ways you can grow in community in this season. We hope to see you there!
If you're wondering if it's really worth it to step outside of your normal Sunday routine or miss out on some of the opening weekend for football, let me share some of my vision for community and my heart for you to experience the blessings that can be found in it.
I don't have to convince you that community can be a gift. I am guessing that most of you have experienced this gift at some point in your walk with Jesus. Yet many of you do not find yourselves in this place anymore. You are struggling to find the joy of Christ-centered relationships again.
Maybe the pace of Orange County got a hold of you. Maybe your schedule is running you instead of you running your schedule. Perhaps tiredness, or laziness, or shame has taken a hold of your life. There are countless reasons why your pursuit of intentional Christ-centered community may have stopped.
Whatever the reason was, it does not have to dictate your life now. Praise God we can press on! There will always be reasons to stay out of community, but as Christians we choose to do things differently. We choose to push back against what might be easier for that which is transformational.
This fall, I invite you to fight the temptation of isolation and take the next step in your walk with Jesus. Consider engaging in community with others through a LifeGroup that will allow you to learn more of God's love for you, for our church and for our neighbors.
I trust and pray that as you align yourself to the reality of God's love through community at Calvary your life will truly be transformed.
Robert Carter
LifeGroups & Connections Pastor
Calvary Weekly Email
Sign up to receive the weekly Calvary email of the Pastor's Blog to get biblical insights and ministry updates on life at Calvary as we follow Jesus together.