Leadership Update | Calvary Church of Santa Ana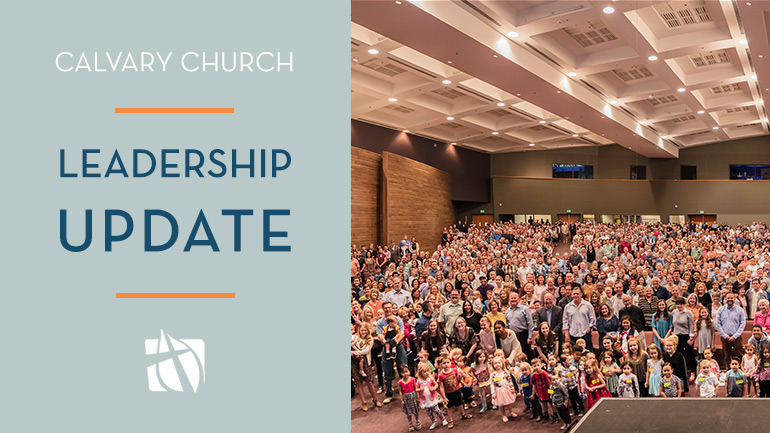 Dear Calvary family,
In every functioning family, ours included, we each play a role that contributes to the health and well-being of the whole family. You may serve as a LifeGroup leader, an Usher or as a Safe Family for Children. Men and women alike serve in administrative roles, in teaching roles and in service roles. Every role requires unique gifts and capabilities.
We are writing to talk with you about one specific role in our church and how we all benefit from its service.
Ephesians 4:11 describes several functions within the body of Christ, and lists the word, poimen, meaning "one who shepherds." Poimen, only here in this verse, is translated pastor. A poimen describes those who are especially good at caring for other people. They shepherd others. Isn't that a great picture?
In this list of roles in the church, Ephesians 4 doesn't make a distinction between men and women. Our gifts, callings, and opportunities for service in this passage are not divided—these for men, those for women. This means the role of pastor/shepherd applies to all believers.
That's especially true in our church body. Look around our Calvary family. Both men and women serve as shepherds under the perfect example of Jesus Christ, the Good Shepherd.
A shepherd knows the sheep and leads them by example. See John 10:2-4.
A shepherd loves and serves the sheep sacrificially. See John 10:11-14.
A shepherd discerns the spiritual condition of the sheep. See Matthew 25:32.
A shepherd has compassion on people by encouraging and seeking healing for them. See Matthew 9:36.
A shepherd reaches out to others who are not yet saved. See John 10:16.
What this means to our body today
Women at Calvary have been fulfilling the responsibilities and duties of a pastor for decades, but we've called them directors. They've been leading, teaching, discipling, praying with people, counseling, baptizing, leading in communion and performing the many other pastoral duties. We believe it's time to both honor them and clarify this role by letting their title reflect what they do. Going forward, when a female staff member is in the role of a shepherd, her job title will reflect that. She will be called a pastor—a shepherd of souls. Really, the only thing that changes here is a title since she's already been doing the work of a pastor.
Here's an important distinction: the role of pastor is different than the role of elder. Sometimes a man will fill both roles, but the functions of a pastor and elder are different. Here at Calvary, the only one that fills both is the Senior Pastor. An elder serves as a spiritual overseer and authority of the church, under Christ. First Timothy 3:1-7 and Titus 1:5-9 make it clear this role is always fulfilled by men. Nothing at Calvary changes here. Our elders are a group of men whose role is to guard, protect, oversee, and nurture the body of Christ at Calvary Church. We embrace this responsibility and privilege seriously, humbly, and prayerfully.
You may or may not notice the change of job titles among the women pastors on our staff—but we are certain you do notice and benefit from their faithful service to us as they shepherd our hearts and care for the needs of our souls. Pray for them, won't you? Praise God for them, too.
If you want to go deeper into the issue of the shepherd role, please CLICK HERE to explore some more thoughts from Pastor Eric along with a couple of theological articles, including one by Pastor David Mitchell.
As always, the elders are available for any questions.
Thank you for your prayers, your service, and fellowship at Calvary Church. May we with one heart and one voice lift high the name of the Lord Jesus Christ in our church and in our community.

To God be the glory--
The Elders of Calvary Church
calvarylife.org/elders
Neil Paur | Elder Chair


Eric Wakeling | Senior Pastor
, 714-550-2386



Calvary Weekly Email
Sign up to receive the weekly Calvary email of the Pastor's Blog to get biblical insights and ministry updates on life at Calvary as we follow Jesus together.