Leadership Update from Pastor Eric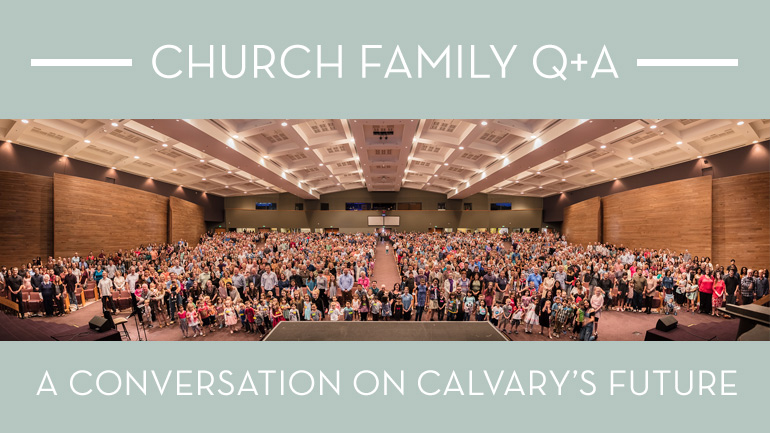 Dear Calvary Family,
We had an incredible service yesterday on our first Sunday of Reach Week. I highly encourage you to be part of at least one event this week. You can find out more here.
We also gave an update yesterday on our thinking regarding the idea of moving to One Service every Sunday. We had two in-person Q&As, some informal feedback and over 300 surveys filled out. The surveys are more positive towards having One Service each week with a lot of potential benefits. We found there to be some disagreement regarding what time the services would be offered. We also felt a sense that there has been a lot of new things happening lately and that can be difficult for many people.
In light of that feedback, we have decided to slow down a little. We still believe that One Service could be a great thing for our church, but at this time we have decided we will continue to pray and think through the best way to do it and the right time to implement it if we do move forward in this direction.
We are slowing down on this decision but that means we need to ramp up our efforts towards achieving the vision God has given us. We strongly believe that God has given us a mission for Each One to Reach One with the Good News of Jesus. We have been praying the 10:02 prayer together asking God every day to send us as workers for the harvest of evangelism. We pray that God would use us to see the people we interact with to be saved. We pray for Courage, Heart, Opportunity and Words to Say.
Easter is three weeks away. Let's take all the prayers that we have prayed and turn them into action. You've been investing. You've been praying for someone to invite. Now is the time to invite them. Our Easter services will be the perfect time for you to invite someone to church where they will hear the gospel. It would be amazing to invite someone to experience an Easter Sunday with you. Invite them to the service and then to have Easter brunch or lunch with you after the service. Make it more than just about a church service. Invite them to be family with you and see Jesus in you. Find out more here.
May the Lord bless you and keep you,


Eric Wakeling
Senior Pastor






Calvary Weekly Email
Sign up to receive the weekly Calvary email of the Pastor's Blog to get biblical insights and ministry updates on life at Calvary as we follow Jesus together.