Remembering Marian Stuck- A Calvary Legacy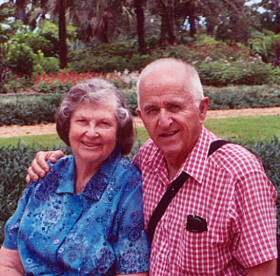 Marian Stuck, longtime Calvary missionary, wife of Ralph Stuck, and mother of James, Tim, Steve and Pete Stuck passed away this week on Monday August 13th. She was 90 years old (b. Dec 17, 1927) and had been married to Ralph for 71 years, since Feb. 18, 1947. They became Calvary missionaries in 1951 and served in Ecuador with Gospel Missionary Union (now Avant) until retiring in 1993, after 41 years of ministry.
Their four sons were all born in Ecuador. Ralph and Marian were peers of the five missionary martyrs killed in 1956, and are still friends with two of the wives still living. The Stucks moved to Frostproof, Florida in 1994 and attended a small community church where they were involved as they were able.
Three of their four sons have also served as Calvary missionaries. Steve and his wife Jeannette served with OM as missionaries in Belgium. They now live in the same complex as his parents, where they have been able to help care for Marian these last years as she has needed extra help. James is a doctor, and he and his wife Lois live in Indiana. Ralph and Marian's other two sons are still serving as Calvary missionaries: Tim and his wife Ruth are serving with Avant in Spain, and Pete is serving with Avant in CA, along with his wife, Jill.
Calvary Church of Santa Ana is so grateful for the life of Marian Stuck, and the legacy she leaves behind her as she joins our Lord in paradise. Her contributions to the global Kingdom of God are innumerable, and we thank God that we could play a small part in her story of faithfulness to His mission.