VBS Each One Reach One Opportunity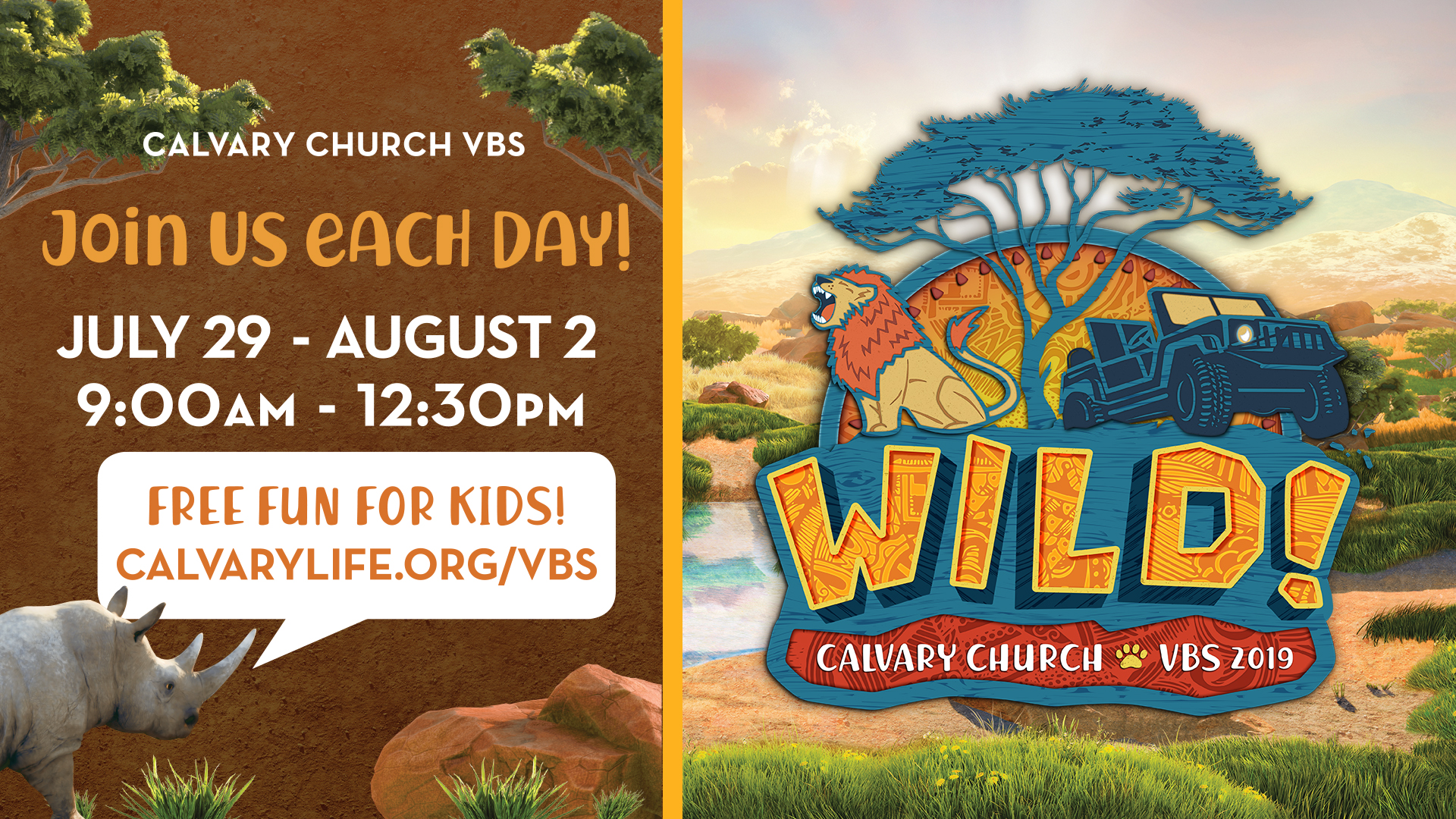 Calvary Family,
As we continue our vision for Each One of us to Reach One with the gospel of Jesus by Easter of 2020, we are excited to see our church grow through people receiving Christ as their Lord and Savior. This week, I want to tell you about a fantastic opportunity to make this happen!
Did you know that VBS is the number one way we see people become followers of Jesus? By far! So don't ignore this email thinking that Vacation Bible School is for kids and not for you. Even if you can't volunteer or don't have kids, you can be involved in making a difference in the lives of people around you.
As crazy as it sounds, Easter, Christmas, and VBS are the three seasons when people are most likely to respond positively to an invitation. It's pretty incredible that this "Wild" week is in the same category as Christmas and Easter, but it's absolutely true!
So with that in mind, I want to encourage you to be as invitational with Vacation Bible School as you are with the rest of our most important holidays. This is an opportunity to see people come into the kingdom of God, and not just for the kids- VBS opens up great conversations with neighbors and parents, and the Sunday after VBS is an easy way for people to hear the Good News in a way filled with "Wild" fun.
Plus, our VBS is FREE!! This is extremely rare, especially with the fact that Calvary's VBS is quite possibly the best in Southern California (if I do say so myself).
So here's some ways you can take action:
1. Grab an invitation card in the lobby and take it to that neighbor, friend, or co-worker this week.
2. Download the invitational graphic at the bottom of this message to post to your social media accounts.
3. Email some friends who have kids using these graphics and follow up with a conversation about how amazing the Calvary VBS is.
4. Volunteer to drop off or pick up kids in your neighborhood to make it easier for other parents.
5. Pray fervently at 10:02 (and anytime) for those people that God has put on your heart.
Your time serving and your donations make our VBS free and amazing. Your invitation will help the people who need the gospel be there to experience it.
May the Lord bless you and keep you,
Eric
Download the VBS Invitation Graphic


Calvary Weekly Email
Sign up to receive the weekly Calvary email of the Pastor's Blog to get biblical insights and ministry updates on life at Calvary as we follow Jesus together.