Where Is Your Heart Focused?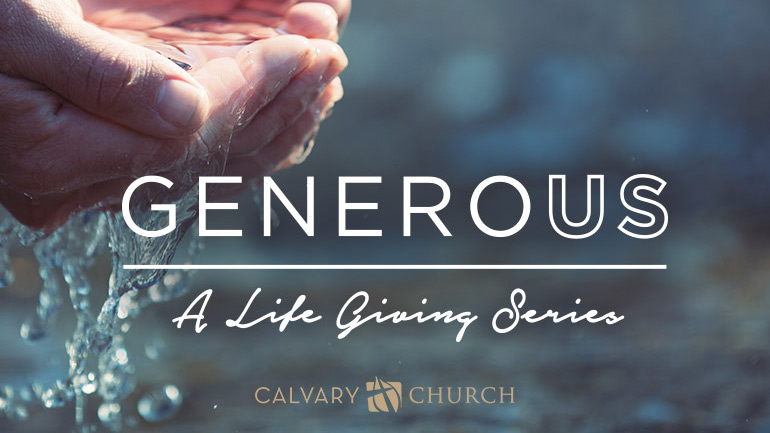 Dear Calvary Family,
Thank you for the favorable response to the recent SIMPLIFY series and to the start of the new GENEROUS series. As we begin learning about generosity, it is interesting to know that the Bible has about 500 verses on prayer and just under 500 on faith, but there are over 2,000 verses on money, and 16 of the 38 parables told by Jesus deal with money. Our Lord knew this area of life would be more of a spiritual challenge than a financial one.
Last Sunday I shared how Jesus affirmed God's care for us and would be generous to meet our needs. I read a passage from Tim Keller's book, "The Reason for God." His thoughts on the problem of idolatry resonated with many of you, and because many asked for these words, I have included them below. They are insightful and cause us to search our own souls, making sure our hearts are focused on eternal treasure and the character and work of our Lord. He alone reigns as our God.
If you center your life and identity on your spouse or partner, you will be emotionally dependent, jealous, and controlling. The other person's problems will be overwhelming to you.
If you center your life and identity on your family and children, you will try to live your life through your children until they resent you or have no self of their own. At worst, you may abuse them when they displease you.
If you center your life and identity on your work and career, you will be a driven workaholic and a boring, shallow person. At worst you will lose family and friends and, if your career goes poorly, develop deep depression.
If you center your life and identity on money and possessions, you'll be eaten up by worry or jealousy about money. You'll be willing to do unethical things to maintain your lifestyle, which will eventually blow up your life.
If you center your life and identity on pleasure, gratification, and comfort, you will find yourself getting addicted to something. You will become chained to the "escape strategies" by which you avoid the hardness of life.
If you center your life and identity on relationships and approval, you will be constantly overly hurt by criticism and thus always losing friends. You will fear confronting others and therefore will be a useless friend.
If you center your life and identity on a "noble cause," you will divide the world into "good" and "bad" and demonize your opponents. Ironically, you will be controlled by your enemies. Without them, you have no purpose.
If you center your life and identity on religion and morality, you will, if you are living up to your moral standards, be proud, self-righteous, and cruel. If you don't live up to your moral standards, your guilt will be utterly devastating.
This Sunday, I will share how everyone can be generous regardless of income or bank account. Scripture offers many verses on money that serve as guidelines to financial freedom and a generous heart which result in treasures for eternity. Please join us again this week as we unite our hearts to God's generous ways.
David Mitchell
Senior Pastor


Calvary Weekly Email
Sign up to receive the weekly Calvary email of the Pastor's Blog to get biblical insights and ministry updates on life at Calvary as we follow Jesus together.