Fear or Faith?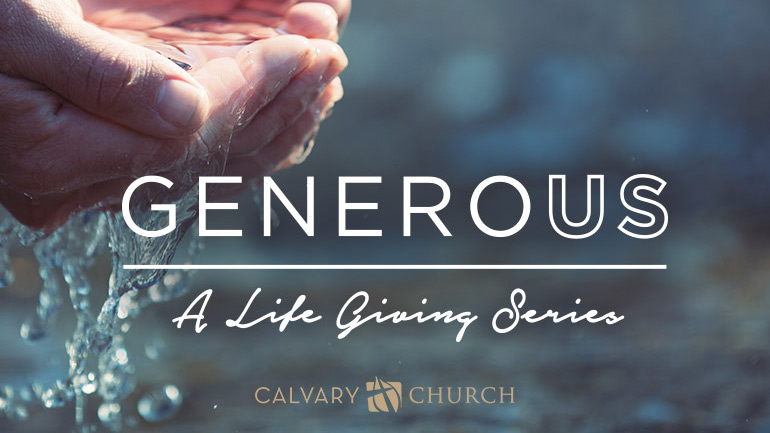 Dear Calvary Family,
There is an old story, popular years ago, that can help us to recognize if we are operating out of fear or faith in our spiritual journeys.
A man was once lost in the desert and close to dying of thirst. He had wandered aimlessly through the hot sand for days and if he did not find water soon, he would die. As he neared the end, he noticed some palm trees in the distance, an oasis, he assumed. With just enough strength remaining in his body, he worked his way to the oasis.
As he arrived, the oasis was very different from what he expected. There was no pool of water. Instead, he only found a pump. And beside the pump were two objects: a small jar of water and a note on a piece of parchment.
The note explained how the leather gasket on the pump must be soaked with water to operate properly. The water in the jar was just enough to lubricate that gasket. The note also warned him to not drink from the jar since every drop was needed to soak that gasket. When the leather was soft and pliable the pump would allow him to have all the water he needed. The end of the note advised him to refill the jar for the next visitor to the oasis.
The man was faced with a dilemma of choosing fear or faith. Fear caused him to worry that the water in the jar may not really help the pump work properly. He thought maybe he should just drink the water in the jar rather than chance wasting it on a faulty pump. After all, how does he know if the note is true? On the other hand, he could act in faith that the author of the note was correct by soaking the leather to provide an unlimited supply of water. Obeying that note required great faith that those words were true.
What should he do? Chance squandering the only water he had in hand or step out in faith by using that water to help meet his need and allow all future travelers a chance to drink as well?
Paul encourages us to act in faith, not fear, and to be generous to those in need when he writes, "And God is able to make all grace abound to you, so that always having all sufficiency in everything, you may have an abundance for every good deed." (II Corinthians 9:8)
Are you operating out of fear or faith? Join us this Sunday as we all grow in our faith and learn to eliminate our fear as good stewards of all God has given to us.
David Mitchell
Senior Pastor


Calvary Weekly Email
Sign up to receive the weekly Calvary email of the Pastor's Blog to get biblical insights and ministry updates on life at Calvary as we follow Jesus together.