New Regathering Plan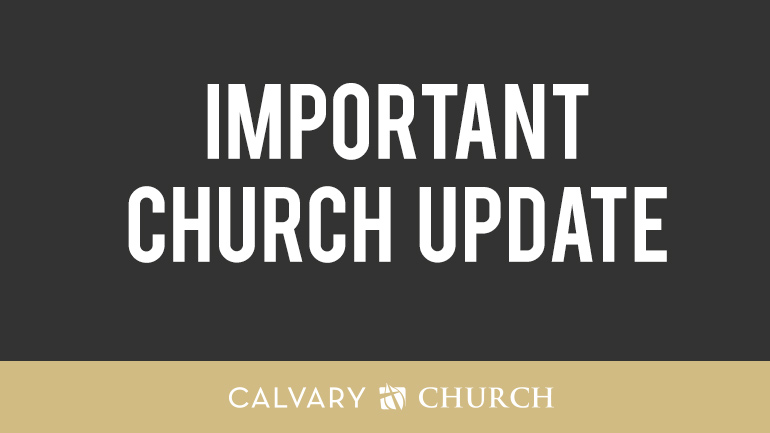 Dear Calvary Family,
Although this continues to be a tumultuous season with the surging of the coronavirus and its effect across so many areas of life, I encourage us to take heart. "Wait for the Lord; Be strong and let your heart take courage; Yes, wait for the Lord." - Psalm 27:14. Our strength and hope come from Him as we deal with these challenges, both as a community and on a personal level.

Since new state guidelines for churches have been released that restrict singing in indoor worship services, I'd like to give an update on how we are planning to regather:
THE PROCESS
We had previously been working towards inviting 100 people to both the 9:30am service in the Worship Center and our Spanish speaking service. Then last Friday, we received the update on singing. Over the weekend, we began to discuss what that means for Calvary and how we should respond. Our Elder Board prayed over this at our regular time of prayer on Tuesday morning, our staff was asked to pray, and I spent a considerable amount of time in prayer personally asking God to lead me in response.

We have carefully sought to keep our ultimate values in mind as we prayed together to lead us to this moment. We desperately seek to regather in person when it will be safe to do so, but we only wanted to regather if our in-person experience would be better than our online experience. We want to obey God's Word in being subject to our governing authorities, and don't want to harm our witness to our unsaved friends and neighbors in the pursuit of our personal freedoms.

We have also researched the issue thoroughly. The bottom line is that it is far safer for us to meet outside than inside. That's part of why the state guidelines are written the way they are. And trust me, we understand that there are a lot of items we disagree with or that don't take our particular situation into account. However, we have decided that following these health guidelines is the wisest course of action for our church at this time.

This means we will not be proceeding with our original plan to invite 100 people to join us live on Sunday mornings, but this has led us to an even better solution.

On Tuesday evening, the officers of our Elder Board and our senior level pastoral staff met together to discuss an idea that God gave us as we sought after Him in prayer. (Stop for a moment and recognize how awesome that is - we serve a God who is active and moving in His people today!) We believe it will help us to have even more people gather in person without sacrificing the values that have guided us - especially the value of being obedient to the Word of God.

Our new idea is for us to start a new outdoor evening worship service, complete with singing!
THE PLAN
We will continue to live-stream the Sunday service from the Worship Center at 9:30am on YouTube, Facebook, and CalvaryLife.org/Live
We will begin an in-person Outdoor Worship Service on July 19th at 6:00pm on the Courtyard Patio in English. This service will include singing with an acoustic worship band and the same sermon as at the 9:30am service. We will be able to have 225 people reserve a space for this service with about 25 additional staff and volunteers helping to put on the service. This is 150 more people than we could have hosted indoors!
Anyone who attends will need to agree to follow social distancing requirements. This includes arriving 30 minutes prior to the service, wearing a mask while entering and exiting (suggested during the service but not required), staying home if sick, maintaining six-foot social distance, hand sanitizing, and a voluntary temperature check. These are detailed at CalvaryLife.org/OnCampus and on the Church Center App. All Calvary staff and volunteers serving you will be health screened, wear a mask, and regularly sanitize their hands. We will not have in-person Children's Ministry Programming. We also recommend anyone in at-risk or vulnerable groups to stay home and enjoy our live-stream at 9:30am.
You can find out more information and reserve a space at the service on the Church Center App. Find out more at CalvaryLife.org/App
Our Spanish speaking service will have a similar arrangement at 9:00am (outdoor on the Patio) and 11:00am (livestream from the Chapel). Updates and details will be posted soon at CalvaryLife.org/Hispano
WATCH PARTIES and LIFEGROUPS UPDATE:
Any watch parties that are meeting indoors should move outdoors or discontinue meeting at this time.

Any LifeGroups that include singing should move outdoors or discontinue singing.
These changes will allow us to continue live streaming a quality experience for everyone still participating at home, provide an in-person experience for as many as possible, and still do everything we can to be subject to governing authorities and protect our church from unnecessary risks. None of these restrictions will stop us from glorifying God and following His call to share the good news in our neighborhoods and the nations, and none of these things can stop Him from doing His incredible work throughout the world.

Your grace, understanding, and flexibility are so appreciated in this time. Thank you for your prayers and continued faithfulness to our Lord.

May the Lord bless you and keep you,


Eric Wakeling